Moflix + NiceMobil awarded "Consumer eSIM Solution of the Year"
NiceMobil and Moflix have been named the winners of "Consumer eSIM Solution of the Year" at the MVNOs World Congress event. The award was decided by a judging panel made up of 6 independent industry experts from consulting and analyst backgrounds.
Ryan Gold, Moflix CEO, says, "In November 2021, Nicemobil and Moflix ushered the telecommunications industry into a new era with the world's first all digital and 100% eSIM solution at launch for a digital telco brand. The project was delivered at a record-breaking speed of under 100 days. We are humbled to be recognized for the pioneering work NiceMobil and Moflix have done to disrupt the Norwegian telco market."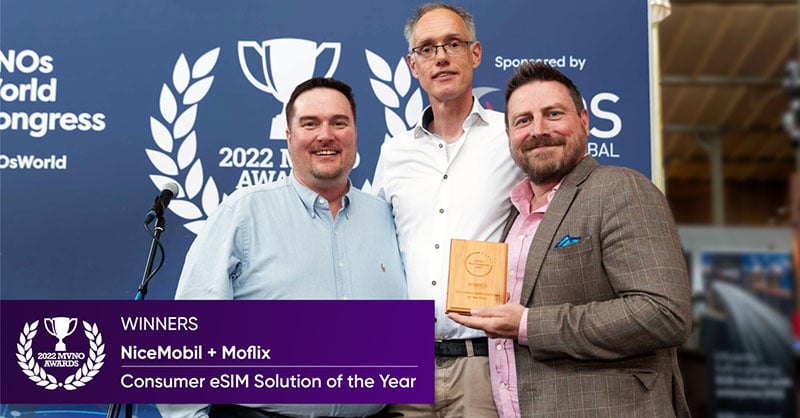 eSIM is an important part of the telecommunications industry's evolution to improve customer experiences and to deliver faster onboarding with an impact on higher customer satisfaction, improved brand perception, and higher NPS Scores. An eSIM is embedded in a mobile device and allows users to activate and use a cellular plan from their carrier without having to use a traditional physical SIM card. In addition to offering an extremely flexible and convenient experience for the end-user, a fully digital eSIM eliminates plastic waste and CO2 output, as well as plastic sourcing and distribution impacts throughout the entire production process.

Shiraz Abid, CCO Ice Norway, says, "It's a great feeling to win an award that celebrates our customer-centric approach to emerging technologies. With our all-digital eSIM proposition our users can onboard themselves to NiceMobil quickly and easily in any location at any time of day. Since the concept of eSIM is still unfamiliar to many users, we paid great attention to ensure a smooth and positive experience at all stages of the journey, including automatically checking the device for eSIM compatibility at the start of the process, and completing onboarding seamlessly without the use of unnecessary QR codes. The elegant simplicity of this process delivers an instant WOW of customer delight to start our relationship off on the right foot.

We are delighted to be working with an innovative partner like Moflix and look forward to our continued collaboration to deliver the next generation of ground-breaking Telco experiences."
Additional Videos in Norwegian (NiceMobile YouTube Channel)

Click Here for List of All Award Winners


Listen to or Read MVNO Nation interview with Moflix CRO, Robin Majors, on eSIM, the award, and what's next for Moflix.


Looking to disrupt your market? We're here to help.
Learn More About eSIM from Our Blogs