Why Work at Moflix?
Moflix provides next-generation digital solutions that disrupt the telecommunications industry.
Our Team
has hands-on experience successfully digitalizing Telco service provider operations globally, as well as Crypto asset onboarding and trading projects
Our Solution
is all-digital and completely cloud-native, utilizing AWS cloud services and open APIs based on telecommunications industry standards.
Our Mission
is to disrupt the market with TelcoTech solutions that digitalize and automate services to drive wide-scale adoption of a digital lifestyle - including Web 3.0 and Crypto assets.
Life is mobile and so are we.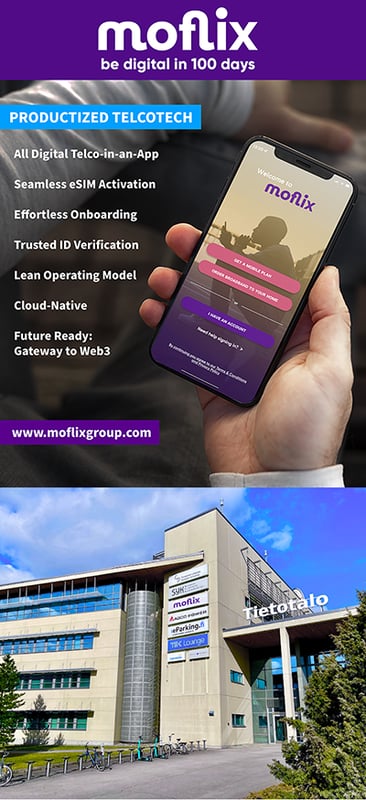 What We Are Looking For
Everyone who works at Moflix should have strong interpersonal skills with a customer-oriented mindset and excellent communication skills.

We Seek Team Members Who:
• Are willing to learn new things quickly
• Aim for perfection, but still deliver within given deadline
• Have a desire to automate repeating manual work
• Want to help others and contribute on a wide range of tasks
We Appreciate:
• People who are proactive and collaborative
• People who are willing to speak up and challenge bad ideas
• People who are technically minded and want to build their experience with new concepts and technologies.
Software Operations Engineer
We are looking for a Software Operations Engineer who masters the monitoring and management of our AWS infrastructure as well as root-cause-analysis of issues reported by customers. You will be part of a team responsible for implementing and maintaining carrier-grade serverless backends for multiple customers with maximum security, scalability, and re-usability. It is absolutely critical that these systems operate flawlessly without any downtime. The job also includes troubleshooting any potential issues with our cross-platform mobile applications on Android and iOS.

This is a permanent, full-time job. The Moflix office is in Tampere at the Hervanta campus of Tampere University. Partial remote work is possible as agreed separately.

Your Responsibilities
● Managing Moflix AWS environments (API GW, Lambda, DynamoDB, CloudWatch, RDS, SES, Cognito, S3…)
● Proactive monitoring of our application and production environments
● Performing root cause analysis while working with the development team and external stakeholders to understand the full scope of the issues
● Doing checking and fixing operations in our production environments when needed – this requires high carefulness and precision
● Participating in operational support meetings with our global customers.
● Being the single point of contact for any incoming operational issues.
● Assist in regular upgrading of our 3rd party SW components to achieve the latest features and security patches
● Assist in managing access control for Jira, Confluence, Grafana and other tools
● Coordinating the work of Junior Operations Engineers

---

Skills You Will Need to Succeed (Learn Quickly and Master)
● Experience in Amazon Web Services (AWS) such as CloudWatch, Lambda, API Gateway, and DynamoDB
● Basic knowledge of SQL queries
● Ability to work with Android and iOS SDK (Compiling, checking traces, etc.)
● Scripting in Python
● Basic Git usage, including pull request-based workflow
● Usage of Atlassian Confluence and JIRA
● Fluent in written and spoken English
● Ability to work independently


---

Skills We Consider a Bonus
●

Programming skills in JavaScript, TypeScript or Java
●

Knowledge of React Native
●

General knowledge of Networking concepts such as VPN set-up and maintenance
●

Being able to set up "ChatOps", like alerts in Slack
●

Ability to work with InfluxDB and create Grafana dashboards
●

Experience in handling Automated Backups
●

Experience in AWS CloudFormation and/or Terraform
●

Experience in Automatic Load Testing and Security Testing
●

Experience in Exploratory Testing
●

DevOps-related skills such as setting up static analysis, implementing automatic build/test pipelines or contributing to Robot Framework test automation


---
We also appreciate any other special skills you might have, as we are constantly expanding to new technology areas. So, feel free to mention any additional strengths in your application.

Send your CV and Cover Letter to us at: jobs@moflixgroup.com

We will be hiring as soon as we find the right candidate