Moflix Nominated for TM Forum "Excellence in Customer Experience" Award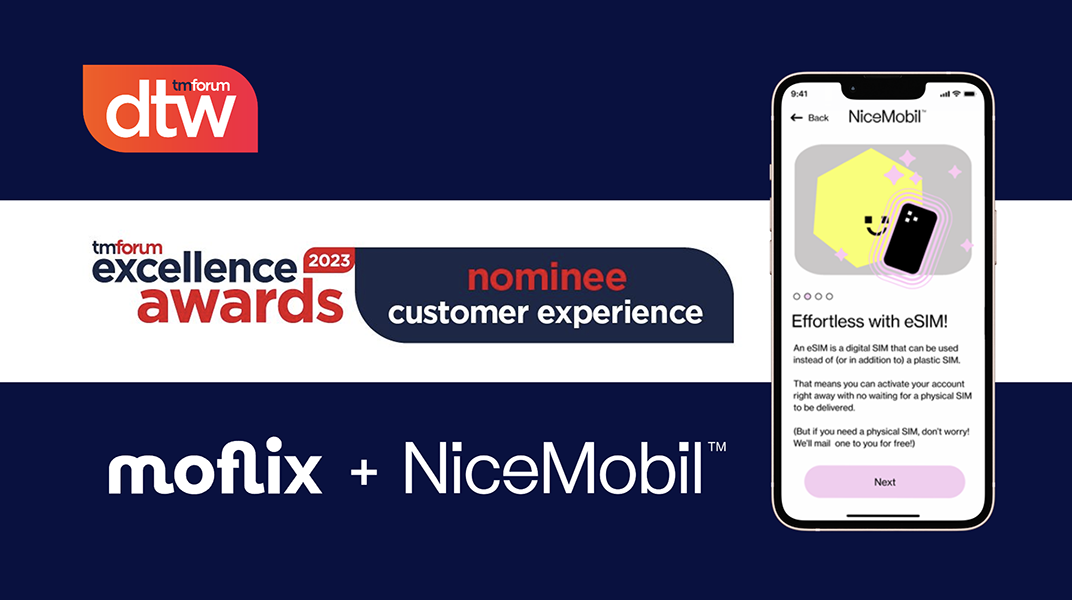 TM Forum has announced that Moflix is nominated for TM Forum's prestigious 16th Excellence Awards 2023. Moflix and NiceMobil have been recognized in the Excellence in Customer Experience category for multiple industry firsts and a modern customer-centric user experience for the all-digital telco NiceMobil. Finalists will be announced on June 30th and winners during the first day of DTW23 - Ignite global event in September 2023.


TM Forum's Excellence Awards recognize the world's leading companies for their innovative achievements spanning digital transformation, business and IT agility, customer centricity, cross-industry partnering and collaboration, and product and service innovation. The awards also recognize the organizations making a significant contribution to the acceleration of digital transformation throughout the industry.


Nik Willetts, CEO, TM Forum said, "TM Forum's Excellence Awards are amongst the toughest and most rigorous in the telecommunications and technology industry. We had an outstanding selection of almost 200 submissions this year and it was difficult to choose between all the companies partnering and innovating to bring the industry into the new age of digital telecoms. The nominees selected by our impartial judging panel make an inspiring set of real-world digital transformation case studies and I look forward to congratulating the winners in September."


Ryan Gold, CEO, Moflix said, "We are thrilled and honored to be short-listed for this award recognizing NiceMobil's elegantly smooth and fully digital customer experience that is powered by Moflix's TelcoTech platform. It is a testament to our pioneering work in bringing digital disruption and best practices from other industries to telecommunications."
Video: NiceMobil effortless eSIM and easy digital-first customer onboarding experience
About TM Forum Excellence Awards
Since 2007, TM Forum's Excellence Awards have recognized the world's leading companies for their innovative achievements spanning digital transformation, business and IT agility, customer centricity, cross-industry partnering and collaboration, and product and service innovation.
Our Awards program highlights achievements in our industry through digital transformation business cases relating to 6 categories. Winners will be announced during DTW23 - Ignite in September 2023. As a neutral, non-profit organization, our awards ensure a prestigious and impartial view, celebrating the success of key industry players and delivering unrivalled industry exposure and valuable peer recognition.


About DTW23 - Ignite 2023
Taking place at the Bella Center in Copenhagen, September 19th to 21st, at DTW23 – Ignite we will explore how new operating models, impactful partnerships, and advanced software platforms will unlock the value of data to create nearly endless opportunities for players across the communications ecosystem.
The event will showcase over 55 hours of visionary and practical content with 100+ sponsors, exhibitors and Catalysts as well as over 150 Communication Services Providers (CSPs) and 3,500+ attendees from 90+ countries.
Don't miss this opportunity to join industry leaders in Copenhagen as we ignite creativity, ignite collaboration, and ultimately ignite industry growth.
About Moflix
Moflix delivers a future-ready digital "Telco-in-an-App" allowing Operators to capitalise on opportunities arising from cloud-native technologies and the increasing adoption of eSIM. Moflix's end-to-end all-digital propositions are implemented and launched within 100 days, delivering a radically simplified digital-first telco operating model wrapped in a modern customer app experience.
The whole service is managed by Moflix - so there's no disrupting your existing IT roadmap to see the impact on your KPIs in months.
Also ask us how Moflix is paving the way for Telcos to play a leading role in next generation digital services with the management of Web 3.0 assets.
About TM Forum
TM Forum is an association of over 700+ member companies, which include all of the world's top 10 network and communications providers and stretch across 180 countries. Our members tap into each other's collective experiences and abilities to collaboratively solve complex industry-wide challenges, deploy new services, and create technology breakthroughs to accelerate change.
We help Communications Service Providers (CSPs) and their suppliers to digitally transform and thrive in the digital era. We do this by providing an open, collaborative environment and practical support which enables CSPs and suppliers to rapidly transform their business operations, IT systems and ecosystems to capitalize on the opportunities presented in a rapidly evolving digital world. Follow us on LinkedIn, Twitter, and Facebook.
Learn more at www.tmforum.org.