For Telcos, the mammoth task of implementing sustainability initiatives and requirements can feel overwhelming. How do you find the balance between environmental sustainability and digital growth?

It's an important question. So, when TM Forum invited Ryan Gold (Moflix CEO) and our customer Sunrise (Mark Klünnen, Senior Director Strategy and Innovation) to speak in Copenhagen at Digital Transformation World (DTW), we wanted to share practical real-life examples of how Operators can start their sustainability journey quickly with concrete actions that can have an immediate impact. 

Below are a few highlights on the key topics from the panel.

INTRODUCTION
MARK:
Sunrise is our main brand which also includes our flank brands of Yallo, Lebara, and Swype. Swype is a fully digital app that we launched as the "ultimate digital solution" for our customers.

Sunrise has an overarching sustainably which is basically four pillars. The most important ones we are talking about today are about Technology and Environment where we have clear net zero targets and where we try to be as sustainable as possible towards our customers as well as in the supply chains.

When we started off with Swype it was really about how to make it as simple as possible and as straightforward as possible. It actually allows us to make it more sustainable - the entire business model is all built around simplicity and simplicity drives also sustainability.
S

unrise is committed to achieving a Net Zero target

S

wype is our most digital telco product - supporting our digital transformation and sustainability targets.
Driven by simplicity

,

swype can create unique proportions around eSIM and 5G.



RYAN:
Moflix is the provider to Sunrise for the Swype brand. Moflix provides an all-digital, cloud-native "Telco in an App" solution. So we provide a full end-to-end digital proposition in a lean operating model that can be integrated easily into a Telco's existing operation in less than 100 days.  It's a great advantage for delivering fast to market digitalization of Telecom as well as for the many sustainability aspects that are achieved from an all digital app.

The two key areas we want to talk about today are what Telcos can implement quickly with eSIM as first step of the sustainable journey, as well as the benefits of moving to public cloud services like AWS.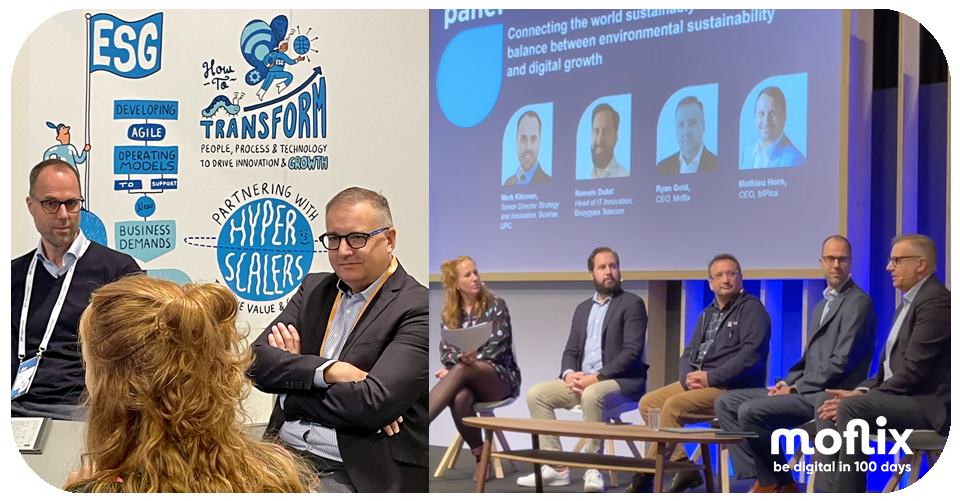 HOW CAN DIGITAL TECHNOLOGIES BE USED TO OPTIMIZE ENERGY EFFICIENCY? 

RYAN:
When you think of optimizing energy efficiency for Telcos, you will most likely first think of what can be done on the Network side. But there are other places that might be easier to start.

For example, taking your existing software and moving it to the public cloud is a good place to begin to help improve ESG scores. Our solution is built based on cloud-native services. We're actually using AWS software services, so we're really sharing it. So it's even more efficient than just moving your containers to the cloud.

Studies by 451 Research have shown that AWS' infrastructure is 3.6 times more energy efficient than the median of U.S. enterprise data centers surveyed and up to 5 times more energy efficient than the average in Europe.

They also found that AWS can lower customers' workload carbon footprints by nearly 80% compared to surveyed enterprise data centers, and up to 96% once AWS is powered with 100% renewable energy—a target AWS is on the path to meet by 2025.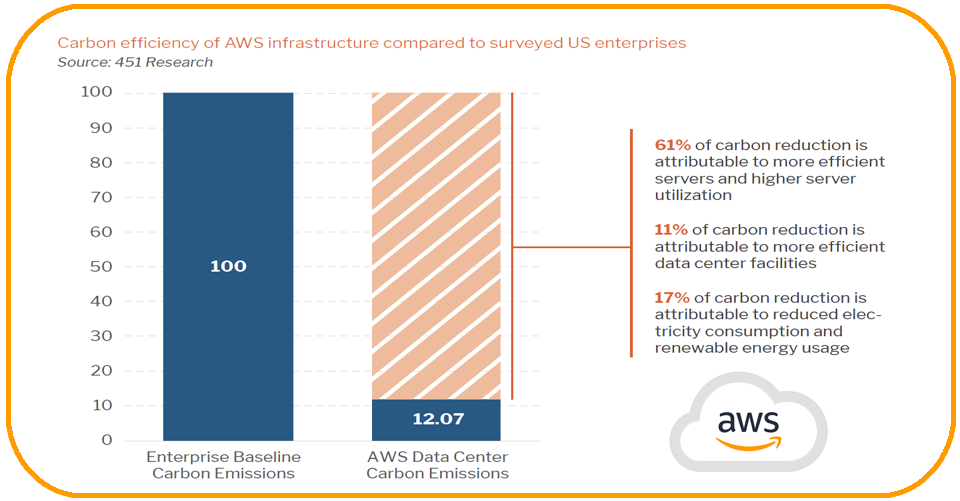 But an interesting thing to highlight is that you can also choose the specific data center you want to use, so you can select a data center that actually is using renewable resources. We work with AWS who have renewable data centers in the Nordics. So, they take advantage of optimization of power, cooling, and heating efficiency.

Other vendors talk about the challenges with optimizing software and code and how difficult it is for them. We didn't have to optimize because we built our solution from the ground-up as a cloud-native solution. Our cloud provider (AWS) actually provides a very good dashboard where we can see sort of the pricing and consumption, and then we can optimize based on that. So, it's not a difficult thing when you aren't locked into legacy thinking or processes.

MARK:
Yes, the whole process of procurement should be matching the operator's values to their suppliers' values and making sure that they're going to help them with their sustainability targets in the long run.

APPLE RECENTLY ANNOUNCED THEIR USA iPHONE 14 WOULD BE ESIM ONLY. HOW DOES ESIM CONTRIBUTE TO A TELCO'S SUSTAINABILITY AND GROWTH – AND IS THE MARKET READY FOR AN ESIM ONLY TELCO?

MARK:
Some immediate benefits of eSIM are
1. Zero SIM Plastic
2. Zero SIM Transport
3. Zero SIM Carbon Footprint

A fully digital eSIM eliminates plastic and paper waste and CO2 emissions, as well as the plastic sourcing and distribution impacts throughout the entire production process.

The industry is in transition at the moment to get completely away from the plastic and go fully to eSIM. But I think at the moment operators cannot be exculsively eSIM only. That is just automatically saying "I say no to 50% of the marketplace." That's just not realistically doable today because there isn't a high enough penetration of compatible phones in the market yet. But Telcos can make the first steps to start the journey like we have done with swype.

Swype was born end of 2020 when Moflix approached us and came with the proposition. I think at the time the project name was called "Naked" because it was really about focusing on the core experience – everything stripped down to optimizing for a perfect digital customer experience.

And we believe in working by the Quarter – so we launched swype within three months for extremely fast implementation with a fully digital solution. Everything is in the app.

About a year later, we wanted to be fully end-to-end digital and implemented eSIM. In our attempt to start reducing the use of plastic SIMs, we needed to make the user experience for eSIM adaptation as simple as possible. So when you activate the eSIM on your phone, the app automatically analyzes if your phone is eSIM compatible. And if so, it can also activate the eSIM right from the phone when you are ready - you aren't forced to clumsily scan the QR code from another mobile phone or from a PC.

We were one of the first ones in Western Europe to go live with this type of solution. It was a challenge, but it's a really interesting innovation in the marketplace that to date nobody had done before.

Because of that ease of use and automation, with Swype we've actually been able to convert our user base now to about 50% using eSIM.

And if a phone doesn't use eSIM, the app offers the user a physical SIM to be delivered for free, so we don't lose customers during the onboarding process if their phone isn't compatible.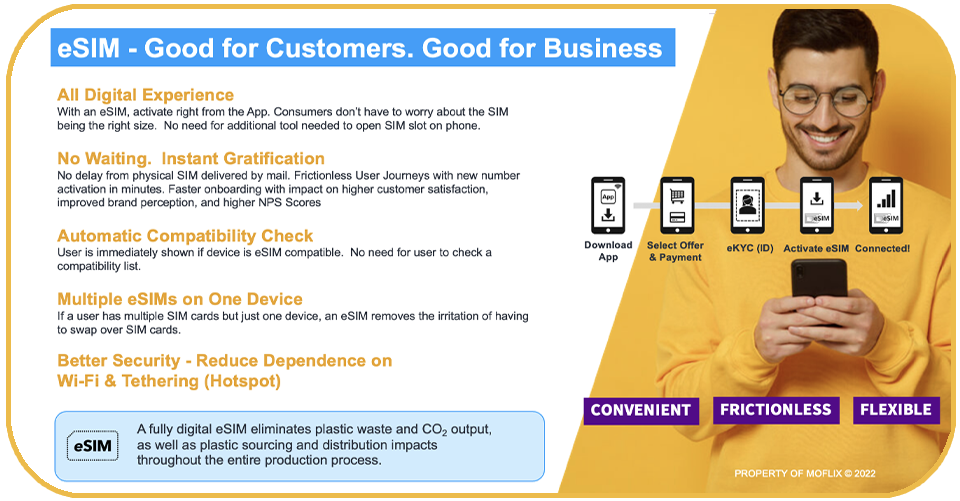 RYAN:
eSIM isn't a new technology. But with Apple's recent announcement that the USA version of the iPhone 14 is eSIM only, I do think the handset industry is now progressing to move towards an all-digital future.

Going back to the topic of eSIM-only operators, in addition to the innovations we do with Mark at Sunrise for eSIM, Moflix also works with ICE, an operator in Norway, that launched as eSIM Only with a brand called NiceMobil. Moflix and NiceMobil recently won the "Consumer eSIM Solution of the Year" award for it and we applaud them for their move to work to completely get rid of plastic SIMs and for trying to educate the market on the benefits of eSIM.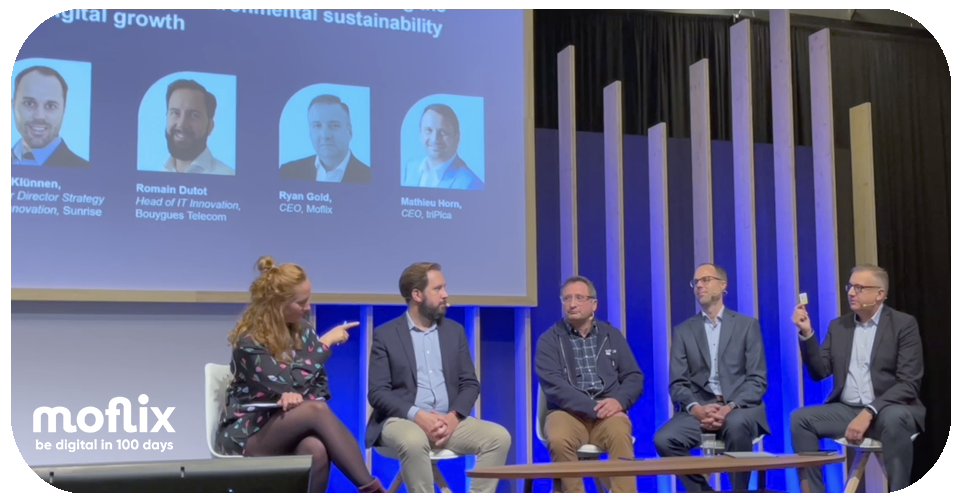 But the public wasn't yet ready for 100% eSIM… there just isn't a majority of phones in the market that have eSIM capabilities today. So NiceMobile recently added physical SIMs into their offer to make it available for more people.

But there's good news - their new physical SIMS only use HALF the plastic that a normal SIM card uses. So, there are ways to serve the needs of the customer to be able to grow as well as balance sustainability goals by cutting half of the plastic used. You don't have to do everything immediately, but can still make meaningful progress.



ARE CONSUMERS READY FOR AN ALL DIGITAL TELCO?

RYAN
Yes, I believe so absolutely. Today's consumers are increasingly digital natives with a Capgemini study showing 58% willing to switch to a digital only operator and only 8% think a physical store is required for a Telco.

Telcos are often still doing business with legacy thinking & ways of working. But there are fast solutions to start the change… for example, if they want to lessen energy efficiency issues inherent to maintaining and serving brick and mortar stores, they can launch what McKinsey & Co calls a "Digital Attacker Brand" like our friends at Sunrise did with their fully digital brand swype.

All Digital not only reduces Cost to Serve, it increases Engagement & Advocacy, and improves Revenue & Margins. Today's Operators must go all-in on All Digital to thrive in the Digital economy and be able to take advantage of future opportunities that Web3 and the Metaverse are bringing to Telcos.

MARK
With swype, we've seen how well an All Digital telco works for our customers and our business. We're very happy with the performance overall, we're hitting our targets. And that's great. We're hitting our budgets, which is really important,too. And we continuously develop and invest in the brand.

---

Thank you to Amy Cameron (STL Partners, Principal Analyst) who moderated the panel.