Moflix Closes $3.1 Million Seed Round to Accelerate Web3 Adoption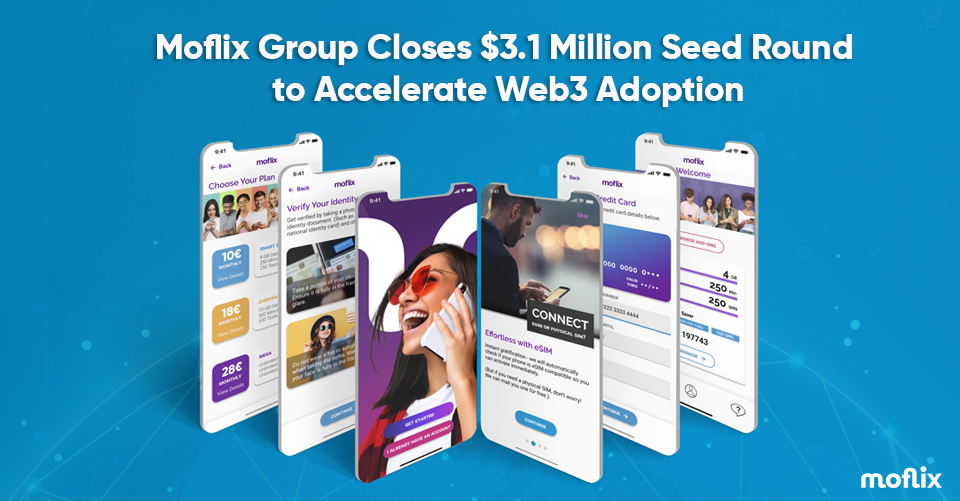 The strategic investment enables Moflix to refine its Web3 offering to telcos, including trusted digital identity credentials and digital wallet services.

Moflix Group, a telecommunications industry pioneer providing next-generation digital solutions, today announced that it has raised a $3.1 million seed funding round with the participation from The Hashgraph Association (THA) - the Swiss-based non-profit organization accelerating the adoption of the Hedera network globally, alongside other strategic investors. The seed funding secured will facilitate Moflix in its mission to lead the convergence of mobile services and Web3 to drive widespread adoption.
Moflix empowers telecom operators globally through digital technologies. Its TelcoTech platform combines digital connectivity propositions with a wide range of disruptive digital tech capabilities, to quickly equip telcos with the innovative tooling they need to compete in today's market. As telcos examine how they may best invest in their infrastructure to prepare for a decentralized internet, THA's funding as well as engineering expertise will help Moflix to refine and extend its Web3 offering to telecom companies.
Marc Degen, Co-Founder and Executive Chairman at Moflix, said: "We are thrilled to have a strategic partner who shares our vision of the indispensable role that telecommunications will play in achieving mass adoption of Web3 technology. The commitment of The Hashgraph Association, together with the support of our existing and new shareholders, allows us to accelerate our mission and continue to build upon the success of our Moflix TelcoTech Platform. At Moflix, we aim to build the most compelling all-digital solution to build the bridge from Web2 to Web3. This is not just a journey towards innovation; it is a commitment to shaping the future of telecommunications."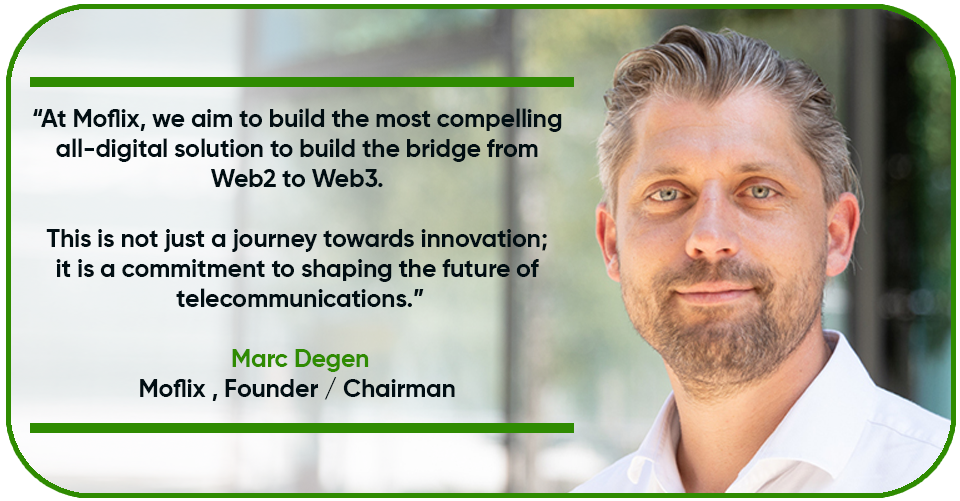 Moflix's Web3 push is paving the way for the next generation of digital services with features for telcos that include management of Web3 assets through a digital wallet and trusted digital identity credentials. THA's financial commitment and engineering expertise will enable Moflix to explore ways of incorporating Hedera's technology into its offering, empowering telcos to offer infrastructure, platforms, applications, and user experiences for a Web3-enabled world.
Hedera is an open source, proof-of-stake network that powers the next generation of the web. Hedera has been specifically designed to meet the needs of enterprise and Web3 applications, which require enterprise-grade performance, security, stability, and transparent governance, all on a low-carbon footprint public network with low predictable fees. Hedera's robust ecosystem is built by a global community, on a network governed by the Hedera Governing Council - a group of industry-leading organizations that are diversified by industry, geography, and term limits.
Kamal Youssefi, President of The Hashgraph Association, commented: "Providing this funding to Moflix Group will catalyze new and innovative ways to accelerate the advancement of Web3 services. Moflix's position as tech enablers for the telco industry places it at a unique and powerful position where it can have significant influence on the speed of the Web3 rollout we envision within the coming five to 10 years. We're confident that by supporting Moflix, we'll help it accomplish its overarching mission and build the pathway from Web2 to Web3."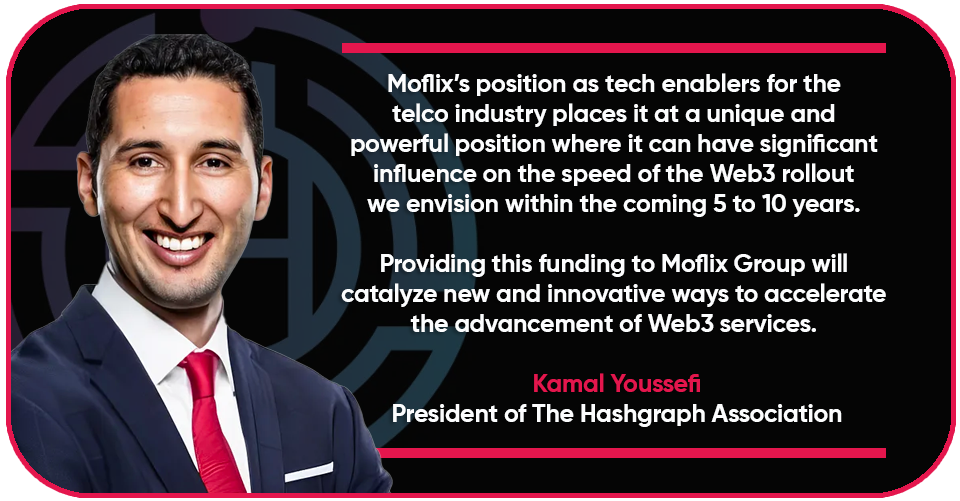 ###
About Moflix Group
The award-winning Moflix TelcoTech Platform combines a modern all-digital Telco experience with a flexible webscale Tech platform to offer the telco industry the same disruptive opportunities that FinTech brings to financial services. TelcoTech provides new and exciting ways for telcos to drive engagement, build communities and generate revenues in both the Web2 and Web3 worlds.

moflixgroup.com
About The Hashgraph Association
The Hashgraph Association supports training and education programs across multiple industry verticals. In the forefront is the digital enablement and empowerment of the public through broad adoption of Hedera-powered enterprise-grade solutions and decentralized applications (dApps), which includes innovation, accreditation, and certification programs. As a non-profit organization headquartered in Switzerland, The Hashgraph Association provides funding for innovation, research and development that benefit economic inclusion with a positive environmental, social, and governance (ESG) impact.

For further information about The Hashgraph Association, visit www.hashgraph-association.com.
For Media Enquiries
Steven Stewart, Moflix CMO
steven.stewart@moflixgroup.com
+358 40 5936084