Moflix brings together the best parts of the modern Digital Telco experience with a powerful Web-scale Tech platform to offer the Telco industry the same disruptive opportunities that FinTech brings to financial services.

The Moflix TelcoTech Platform offers pre-packaged solutions that can be customised to launch a Greenfield All Digital Proposition in under 100 days, and build out iteratively into a modern Super App.

Telco Industry Disruption with Global Impact
About Moflix
Moflix is disrupting the telecommunications industry in transforming how telecom operators do business in the digital world.
Our vision and strategy (combined with our successful customer deliveries) have been validated with recognition and awards from top market leaders for our pioneering work – including our end-to-end eSIM orchestration, launching a new category of Telco "Digital Attacker Brands," automated customer self-care, and use of fully cloud-native solutions.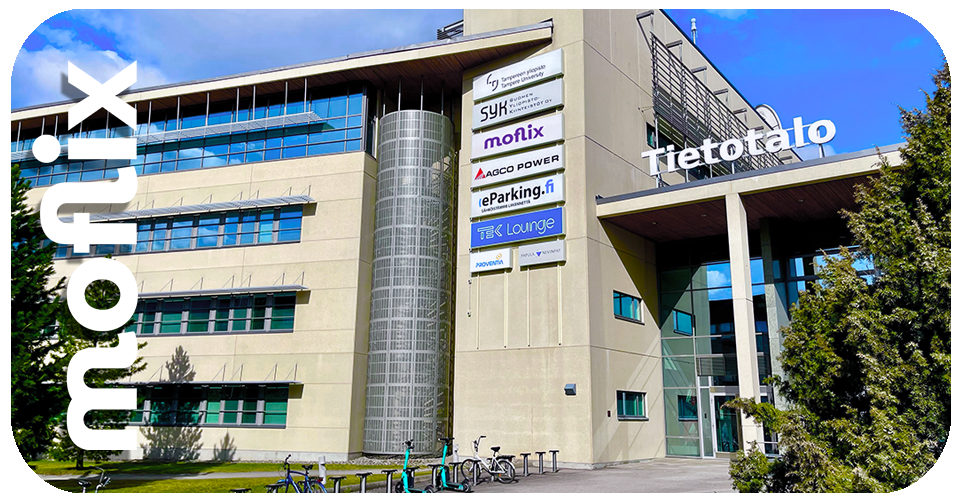 Moflix entered the market in 2019 with the bold claim to enable telecom operators to launch a mobile-first, cloud-based and fully digital offering, integrated with their existing operations, within 100 days. We were founded by telco veterans who wanted to create game-changing digital solutions designed to fix the most critical challenges that telecom operators face and transform how they do business for digital success today and in the future and to digitalize and automate traditional telco services for both consumers and businesses.


In an industry with an almost 90% failure rate for telecom digital transformations, Moflix has consistently and successfully delivered on this seemingly impossible promise and is helping Operators to break the chains of legacy processes, technology, and way of working - all with no disruption to existing IT roadmaps so they can see the impact on their KPIs and NPS scores by the following quarter.

Moflix was also recently rated as the #1 Challenger for the "Global eSIM Orchestration" scorecard report by Counterpoint Research, placing well ahead of industry veterans Nokia and Ericsson as well as other completely eSIM-focused companies.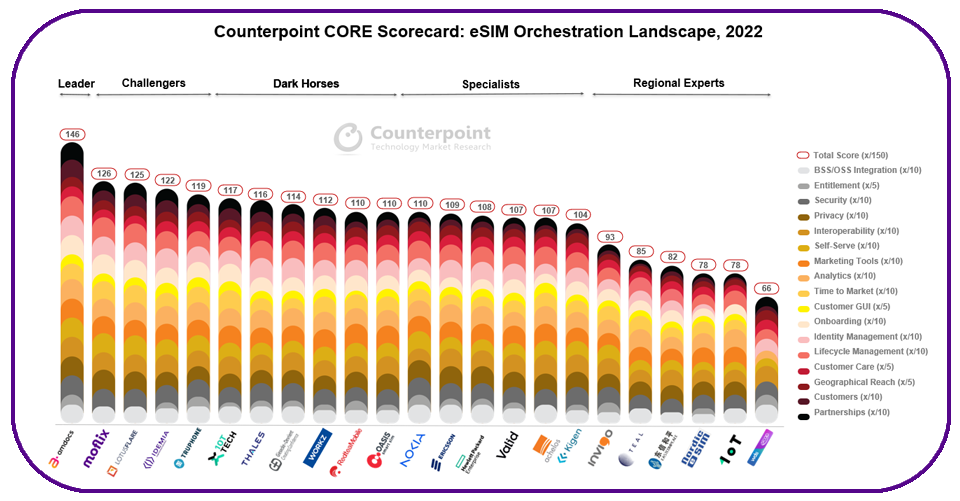 The report especially praised Moflix's lifecycle management, interoperability, analytics, self-serve and end-to-end eSIM orchestration capabilities. Also, in recognition for our role as innovators for our work with eSIM and sustainability, Moflix has also been featured as expert thought leaders at multiple key industry events for keynote speeches and panel discussions.

For our work that capitalises on new opportunities that arise with the proliferation of embedded SIM (eSIM) technology, Moflix has won the "Consumer eSIM Solution of the Year (2022)" and ""Digital UX MVNO/ Sub-Brand of the Year. (2023)"(with NiceMobil from Ice Norway) from MVNOs World Congress. Moflix is also a finalist for TM Forum's Excellence Awards for the "Excellence in Customer Experience".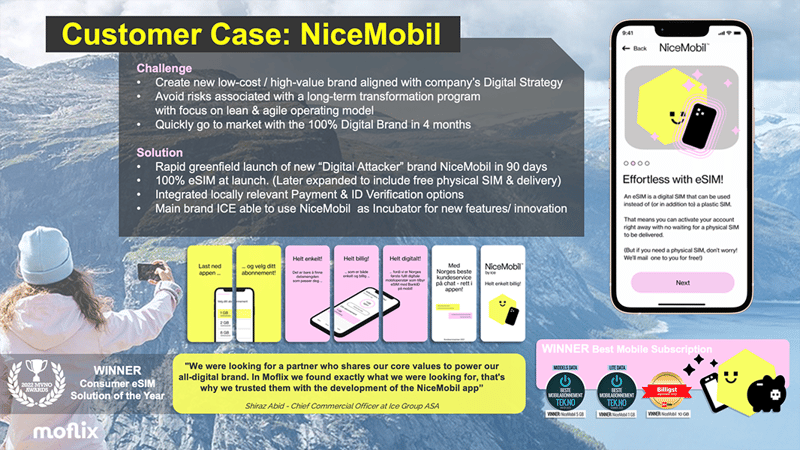 Today, global telecom giants currently find themselves at a critical crossroads. Although coverage is improving and speed is increasing with investment in 5G networks, revenue growth from voice and data is slowing in many markets. At the same time, the industry continues to have difficulty with meeting rapidly changing customer expectations, which are shaped by simple, personalized interactions that are made available by digital giants in other industries like Netflix, WhatsApp, Amazon, Uber, Spotify, and more.

Moflix's groundbreaking work to emulate the best practices in excellent digital customer experiences from other industries for Sunrise Switzerland's digital telco-in-an-app "swype" was highlighted by McKinsey & Co, trusted advisor and counselor to many of the world's most influential businesses and institutions, who featured yallo swype as best in class in their report "A Battle Plan for Telco's Digital Attacker Brands." Moflix has also been active in educating and mentoring to improve understanding of the technical requirements and scope of what is needed for Telco operators to deliver a truly all-digital solution to their customers and for their backend operational teams to manage vs just putting their website on an app.