Moflix Ranks as #1 Challenger Among World's Leading Providers of eSIM Technology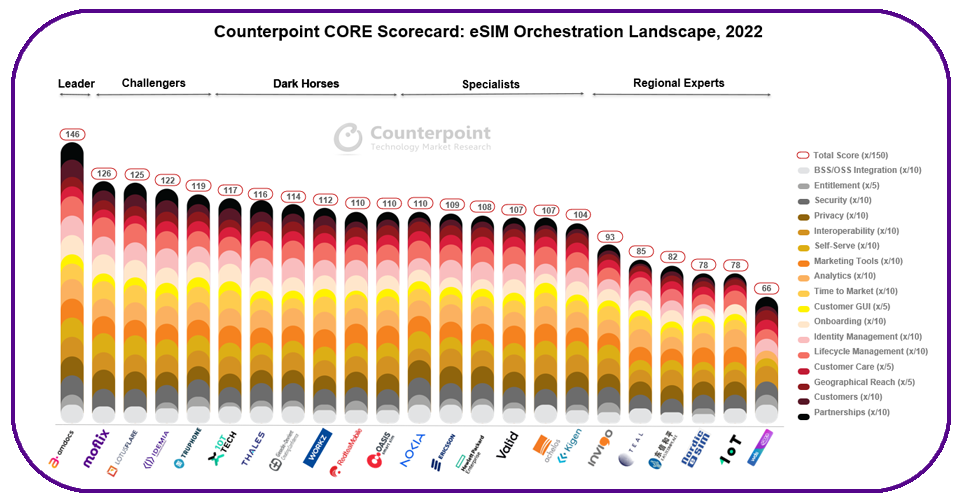 Counterpoint Research, the global technology analyst firm, has ranked Moflix as the #1 challenger in its recently released eSIM CORE (Competitive, Ranking and Evaluation) scorecard for its "Global eSIM Orchestration Landscape" report. Moflix took the lead ahead of a field of key international players in the emerging eSIM technology space, ranked second only to the established leader.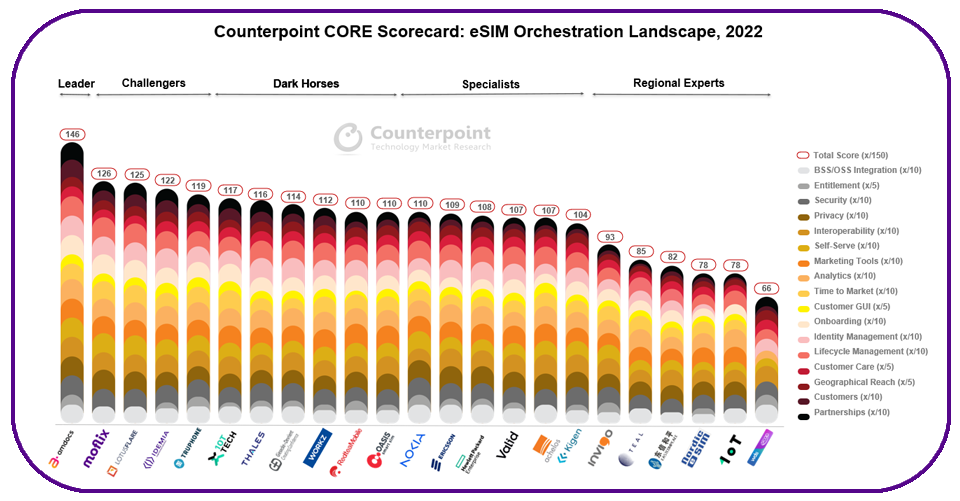 Source: eSIM CORE (Competitive, Ranking and Evaluation) Scorecard and Analysis, March 2023

Founded in 2019, Moflix serves telecom companies and mobile virtual network operators with digital solutions to capitalise on new opportunities that arise with the proliferation of embedded SIM (eSIM) technology.

Moflix entered the market with the bold claim to enable telecom operators to launch a mobile-first, cloud-based and fully digital offering, integrated with their existing operations, within 100 days. This recognition underpins the company's strong growth trajectory and comes in the wake of its "Telco-in-an-App" solution being successfully deployed to power digital attacker brands launched by telecom operators such as Sunrise in Switzerland and Ice Communication in Norway.
In the new "Global eSIM Orchestration Landscape" report by Counterpoint Research, Moflix was ranked number two globally and identified as the leading challenger on a scorecard that includes 17 different dimensions, leaving behind established industry giants. The report particularly praised Moflix's lifecycle management, interoperability, analytics, and self-serve with additional recognition of being a leader in end-to-end eSIM orchestration capabilities.

Counterpoint evaluated the companies using its proprietary CORE framework, which ranks players on a broad range of criteria, such as BSS/OSS integration, security, interoperability, self-service and success in the ecosystem. Commenting on the research findings, Research Vice President Neil Shah said, "Moflix scored excellently across various parameters such as lifecycle management, interoperability, analytics and self-serve capabilities with their differentiated product."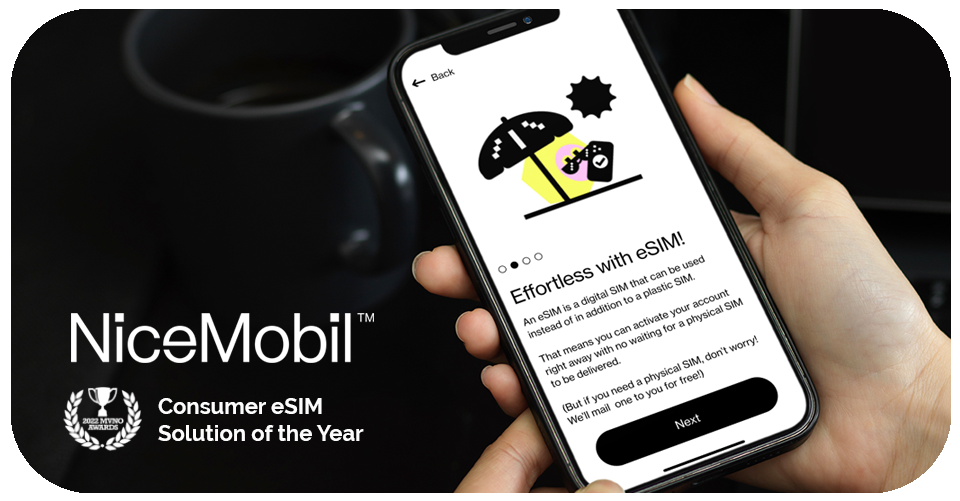 Moflix CEO, Ryan Gold says, "Right from the start, we at Moflix recognized from what a significant role eSIM would play in the disruption of the Telco industry. We have worked hard to make eSIM orchestration effortless for both consumers and for operators. This report along with the market data on the aggressive growth of eSIM is a welcome validation that our vision and strategy were correct."

Senior Research Analyst Ankit Malhotra highlighted, "2022 was a landmark year for the global eSIM ecosystem. More than 260 MNOs/MVNOs now support eSIM and the average device support by carriers is also more than 30. The operators are also taking eSIM more seriously and enthusiastically than before. It is no longer just a tick on the checklist but also an essential component of the digital revolution. Therefore, it is important to ensure fast, reliable, and consumer-friendly eSIM orchestration and implementation practices to maximize the vast potential of the eSIM."

As the eSIM market continues to grow in awareness and usage, Counterpoint Research predicts global eSIM shipments to surpass 1 billion units during 2023, creating a growing need for eSIM orchestration solutions to seamlessly manage and provision eSIMs across different devices, touchpoints and experiences.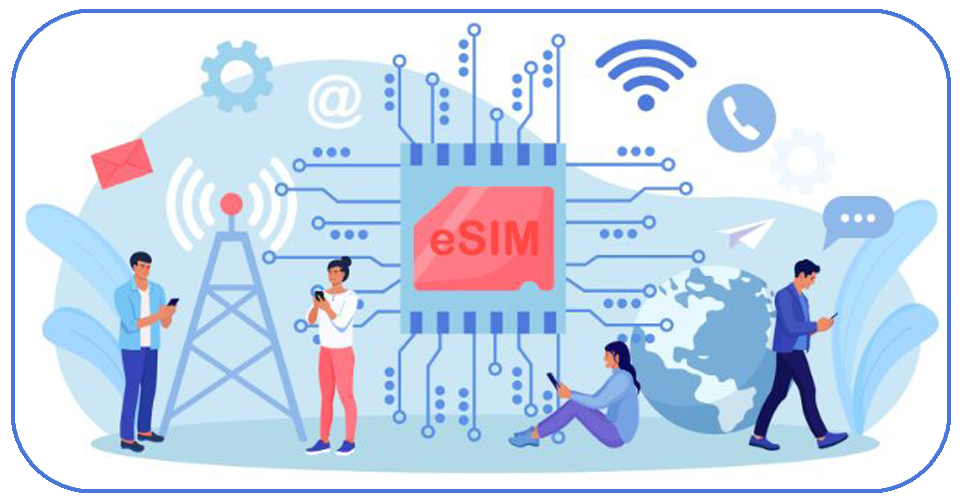 One in five smartphones sold last year has eSIM capability. eSIM-based device shipments could cross half a billion units this year. The number of transactions for eSIM profile downloads is also seeing tens of millions of transactions per year which is increasing as the eSIM-based devices base and the MNOs supporting eSIM with eSIM management platforms proliferate.

Juniper Research predicted the value of the global e-SIM market would increase from $4.7 billion in 2023 to $16.3 billion in 2027, largely driven by increased adoption of consumer devices.

Moflix founder and Chairman of the Board Marc Degen says, "With eSIM technology beginning to achieve mass awareness and adoption, the telecom industry is ripe for disruption. The elimination of physical SIM cards gives telco operators unprecedented freedom to rapidly launch new offerings that accelerate time-to-revenue and deliver a vastly improved user experience. They also need to explore additional services for their customers beyond the known connectivity and entertainment offerings by enhancing their market access with Fintech or other Web3-based services. However, most telcos still lack the technology and agility to seize these opportunities. That's where Moflix steps in and offers a powerful solution that's simple to implement."



Additional Information:
Counterpoint analyst report "Global eSIM Orchestration Landscape"

Moflix and NiceMobil awarded "Consumer eSIM Solution of the Year (2022)"

eSIM Strategy Discussion at MVNO Nation Live

About Counterpoint Technology
Counterpoint Technology Market Research is a global research firm specializing in products in the technology, media and telecom (TMT) industry. It services major technology and financial firms with a mix of monthly reports, customized projects, and detailed analyses of the mobile and technology markets. Its key analysts are seasoned experts in the high-tech industry.

About Moflix
Moflix was founded in 2019 by Swiss entrepreneur Marc Degen, who previously co-founded Switzerland's flagship technology hub Trust Square and blockchain venture Modum. Headquartered in Switzerland and Finland, Moflix delivers a future-ready digital "Telco-in-an-App" for telco operators of all kinds, allowing them to capitalise on the opportunities arising from digital-first cloud-native technologies, and the increasing adoption of eSIM. The company's end-to-end all-digital propositions are implemented and launched within 100 days, delivering a radically simplified telco operating model wrapped in a modern customer experience.


Media Contact
Steven Stewart
Chief Marketing Officer