After a year of development (and a year after Donald Trump was banned from multiple social media networks), his new unapologetic clone of Twitter went live this week. With that launch there are lots of bugs, an inability to onboard new users, a long waitlist, and of course promises about how things will get better soon.

Everyone knows that the truth hurts. But the launch of Truth Social didn't have to be this painful. What went wrong and what does the Telecommunications industry need to learn from their mistakes?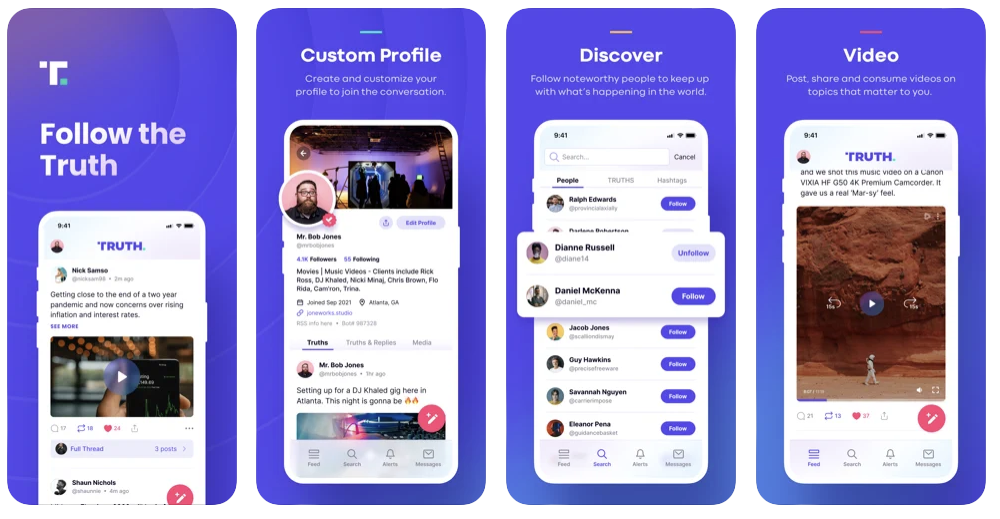 "Something went wrong. Please try again"

Multiple Error messages throughout onboarding progress.

Registration cannot be be completed for most users

Successful onboarding still denies access to App (Users put on eternal waitlist)

13+ hour outage at launch.

Support and Terms of Service Pages links broken

Email confirmation comes late and times out before verification.

The list of what has gone wrong goes on...

Those who actually were able to add their credit card to pay for the "Free" speech app were not welcomed to the friendly home page of the new Truth Social interface after finally completing the process. Instead, they got an apologetic message that they were now added to a crazy long waiting list promising they would get access soon. Because "we love you, and you're not just another number to us." (

The app did not give an estimate for how long it would take for the waitlist to clear up.

)

The PR spin is that the system was overwhelmed by massive demand (even though the waiting list message was already showing pre-launch during Beta), but why would a modern app have this many problems with just simple onboarding? Yes, it's challenging to launch a new digital app, but this nightmare of a customer experience is inexcusable for today's digital native audience and was mostly avoidable.

What can Telco Operators learn from Truth Social missteps?
In the urgency to go to market quickly to stay competitive, Telcos are forced to accelerate their digitalization activities. But what is often overlooked in the rush to get to market quickly is the importance of simplifying the service experience and process flows.



Besides the technical failures, what are some key areas to learn from the Truth Social launch mistakes when launching a new app-based Mobile brand of your own?





1. If your Beta test shows you aren't ready, your app isn't ready


Many of the same problems with error messages, broken links, and waiting lists seem to have already been known issues during the beta testing. If you haven't fixed the basic critical problems in beta, you should be willing to postpone your official launch until you get it right. Your customers will generally far more appreciate a trouble-free start to their relationship with you than be upset about a delay.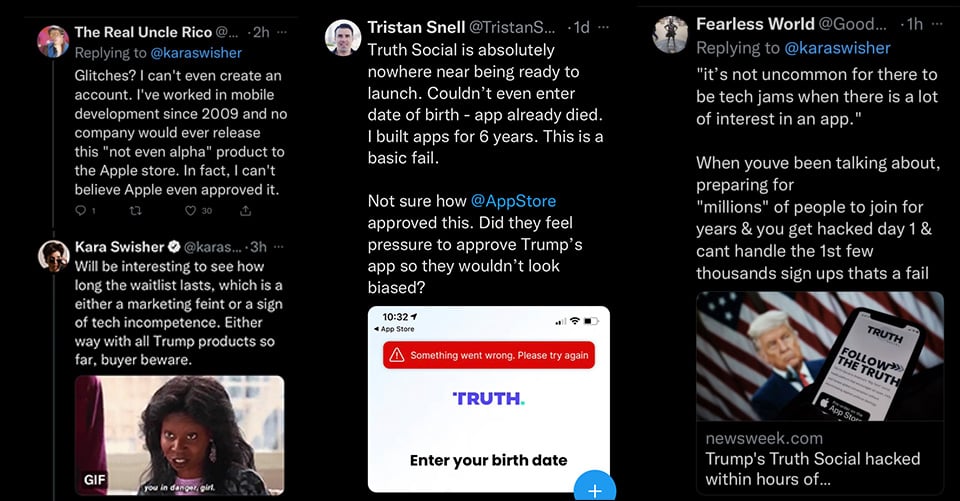 2. Make Your App Available for both App Store (iOS) and Google Play (Android) at launch
If your app is only available in one store and not the other, you open the door for imposters to devalue your brand and risk alienating half of your audience feeling unserved or cheated.

The Truth Social app shot to the top of the Free Apps charts upon release despite its problems but is not available for Android yet. Without a presence on Google Play, confused users downloaded the wrong app over 100,000 times ("MAGA hub – Truth Social Trump") which had an in-app purchase price of 28.99 USD. (The app has since been banned from Google Play for violating its impersonation policy)



For Telco operators providing an app, you need to serve both iOS and Android users.

3. The "Zero-Touch" experience only works if your app and links work, too.

Mobile apps are moving toward a "zero-touch" experience where the user should never have to contact a live person to get what they need. But for that to work, you have to have a foolproof customer flow with easy to find and accessable self-help where needed.

For the launch of Truth Social, clicking the Support and Terms links just gave another error message- u
sers couldn't even read about what they were signing up for because the Terms of Service was down.
(And note that Error messages do NOT need to be ugly, scary, or unclear. Here are a few good examples of how to write a good error messaging.)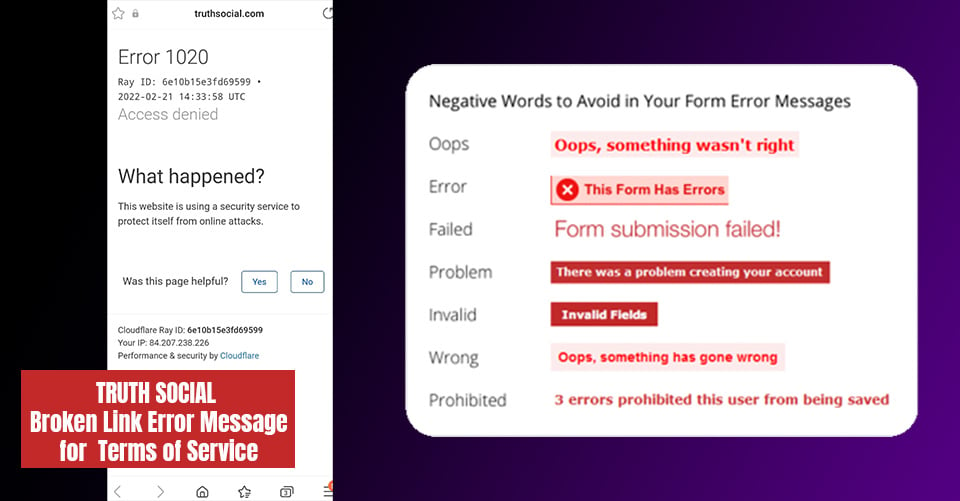 And ironically since there was no support available on the app, users flooded rival Twitter with requests for help.

So, test your links before and after you go live.

4. Ensure your terms and content usage are clear and understandable
For Truth Social, there also seems to be a conflict in what Data is and is not linked to you. It is becoming more important to users to have control over how their information is used and if the Terms scare them off, they will not complete their onboarding.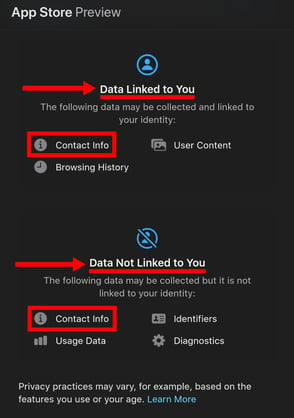 5. Most Importantly: You cannot overestimate the value of a great onboarding experience. Get it right.
The onboarding process is the first impression your audience will have, so you need to ensure that your users have a positive first experience. Customers' expectations of what constitutes an excellent customer experience have shifted radically in the past years. For example, digital services like Netflix and Spotify have trained us to expect a smooth customer journey with fully digital onboarding and quick sign-up that offers easy-to-understand subscription-based pricing to fit our needs. This is something most digitalized Telco brands are still failing to get right. Your onboarding process must be easy, painless, and able to be completed.

The basic thing Trump Media & Technology Group needed to actually get right, to get their audience in the door, they couldn't get right.

This includes simple email verification.
One user who came to a roadblock near the end of his onboarding reported, "Every time I try to create an account, I don't receive the email to confirm my email address. No, it's not in junk mail either. The one time I received the email many hours later and it was already expired."
Add to that the unexpected surprise of a user actually finishing the onboarding journey after multiple failed attempts, then being told they cannot access the app and have been put on a waiting list hundreds of thousands of names long is an unforgivable sin.

Another onboarding failure? Truth Social cannot be downloaded by anyone using Android, which controls nearly 70% of the global operating system market and 42% of the domestic market. Truth Social is inaccessible to Android users because it has yet to file the required paperwork seeking approval for its listing on the Play Store, Rolling Stone reported.

As Carrie Fischer once famously said, "Instant gratification still takes too long." Don't make your users wait needlessly.

For Telcos, it helps to have partners who have deep experience with proper onboarding (along with expertise in UX/UI and customer journeys) and to ensure your platform and tools are able to handle the happy problem of getting a high volume of new users.

6. Oh, and make sure your logo design isn't copied from another company.
Jimmy Kimmel recently chimed in on the disastrous launch of Trump's app saying, "Truth Social has been such a disappointment so far, Trump may have to rename it to 'Don Jr'."

With the revelation that the Truth Social logo is almost identical to another company who is considering legal action, changing the name as well as the logo might be a wise idea.

Your legal department would like to have a word.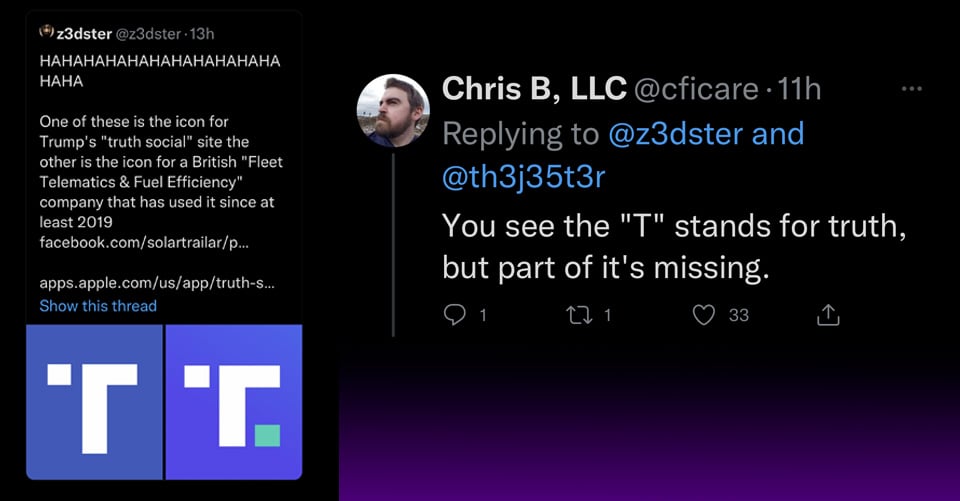 With all of that said, Digital Telco apps (or "Digital Attacker Brands") are highly recommended by boardroom thought leaders McKinsey as critical differentiators for Telcos who want the advantages of being first-mover and usually contribute approximately 25% of the overall gross additional subscribers to incumbent telcos within four quarters following their launch.
CSPs also benefit from this success by creating a digital foundation for their business that is future-proof and free from legacy dependencies.

Just be sure to work with a better partner with more experience than Trump's team did.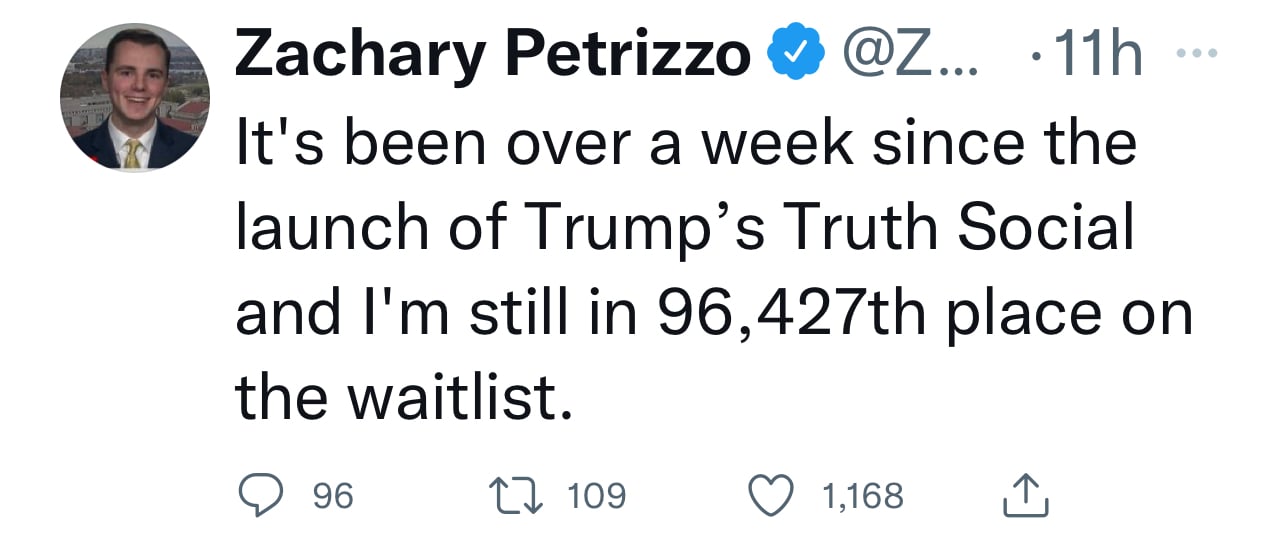 ABOUT MOFLIX
Moflix gives CSPs a next-generation digital service experience out of the box. Our customer journeys have been built from first principles to deliver what today's consumers require from their digital service providers. With mobile-first simplicity, our intuitive app lets users sign up and onboard themselves in minutes.

Click Here to Contact Us to learn more about how to do onboarding right.