Culture Wars – The Split Brain of the 21st Century Telco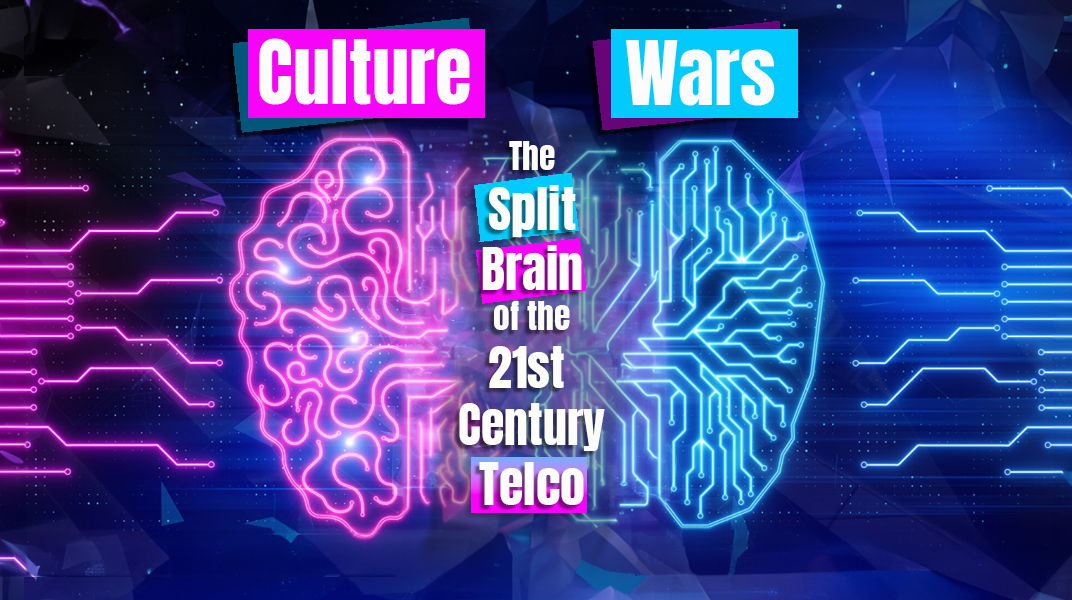 May 2023 saw some significant announcements in the telco sector.
Firstly ,Vodafone's new CEO, Margherita Della Valle, announced that the company was reducing its headcount by 11,000 people across its group functions and operating businesses by 2026, in a drive to simplify its operation and become "much leaner".
Not to be outdone, 2 days later the CEO of BT, Philip Jansen, shared that he would be cutting up to 55,000 jobs by 2030 to become "a leaner business with a brighter future".


Coming so soon after the last Moflix article about Digital Disruption and the critical importance of a lean Digital Operating Model, I started to think that maybe our blog is attracting a wider readership than we first thought! Maybe senior telco executives are finally listening to us and embracing our mission to reimagine the telco industry? Maybe they really do want to leverage digitalization and automation to be leaner, meaner and more relevant to 21st Century consumers!?
Although massive headcount reduction is always a painful decision to contemplate, if you look beyond the headline level, where a cynical observer might think the Vodafone announcement is just another standard washing machine cycle of "New CEO moves into top job ➔ Announces 10% reduction in headcount to make investors happy ➔ Nothing really changes ➔ Repeat", we're seeing a real change in the message in both of these announcements that genuinely points towards reinvention. That these large telco groups are standing at the crossroads and making the difficult choice to take the road less travelled and carry all the consequences of building a new kind of telco that is fit for purpose.
But there is a "but". In telco you know there is always a "but".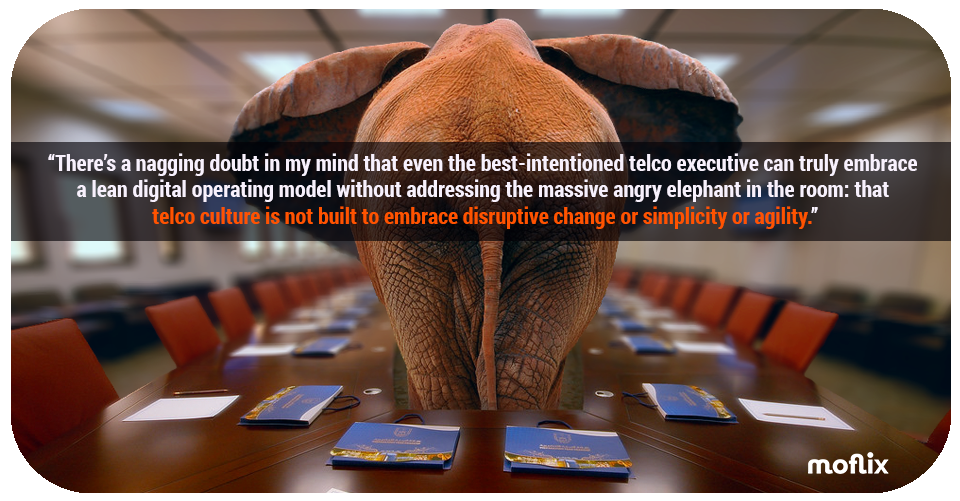 There's a nagging doubt in my mind that even the best-intentioned telco executive can truly embrace a lean digital operating model without addressing the massive angry elephant in the room: that telco culture is not built to embrace disruptive change or simplicity or agility.

We've spoken before about how the DNA of the telco business model is focused on keeping the system stable. On defending our revenue base. On minimizing churn. On maximizing margins. And we've discussed anything that challenges this DNA is rarely seen as a transformative opportunity. That even the most well-meaning executives have a natural tendency to treat disruption as a virus that threatens the body corporate and must be marginalized or wiped out to ensure continuing survival.
A couple of other things happened recently which showed me how true this nagging doubt still is, and how far we still have to go in this industry to reinvent ourselves credibly:
Not long before the Vodafone & BT announcements,

I

spoke with a large national incumbent telco, whose market position has dropped from monopoly leader to third in a very competitive market, and whose clunky "My App" currently has ratings of 1.3 stars in the App Store. They had also recently announced layoffs but had put none of the markers in place to replace their workforce with digital capabilities that would be needed to re-energise the business. Instead, their CMO proudly told us that they have a plan and a roadmap in place to "

look at doing

" some of the things that Moflix does, in terms of disruptive digital reinvention, over the course of the next

5 years

. This wasn't a message coming from a junior product manager with a job to protect. This was coming from a very senior member of the C-Suite, whose job should be to find ways to accelerate change and disrupt the status quo; to simplify the operating model and cater for the new Digital reality we all live in –

today, not in the next economic cycle

.




In another instance, a senior executive of an operator that is part of a large multinational group, who was excited about working with Moflix to implement a disruptive All Digital proposition, suddenly left the company in frustration. On the way out of the door, she complained about a lack of any innovation in their company, and proclaimed that she doesn't see "any future for the telco industry". This person had been brought in by the CEO to bring some "fresh thinking" and "shake things up", and she left only 6 months later having been ground down by the "that's just the way we do things around here" crowd.
For the most part, telco execs clearly still have some work to do to develop a bold enough vision to truly disrupt this industry and bring about the kind of simplification and cultural change that Vodafone and BT's headlines aspire to. But even when there are leaders brave enough to stick their heads above the ramparts, the single biggest enemy in the way of progress is not the market or their customers, or even their competitors. It's their own culture. Their own "way of doing things" that gets in the way of any meaningful change.
Here's the thing: there is a huge difference in 2023 between the needs of an organisation that builds and operates networks versus an organisation that sells things to customers and services and supports their real-world needs.
It wasn't always this way. Back when the world's telcos were government-owned monopolies, customers just put up with the way operators did things. They didn't have a choice. And the way telcos did things was all centred around the networks. Planning networks. Building networks. Operating networks. Networks are hard. And risky. And expensive. And they still are today. Any CTO or COO worth her salt must make it her primary focus to minimize the risk and maximize the return on capital invested in networks. This means standards. And processes. And reviews. And acceptance procedures. Lots of them. And a good thing too. Why would you throw away a multi-billion dollar investment in network infrastructure by being careless about how it is planned, built and operated?
During this golden era, concepts such as customer-centricity, ease-of-use and flexible business processes were not part of the telco vocabulary: customers could have any colour of telephone they wanted as long as it was government grey. And they put up with waiting times of several months to get a line installed, Or they were happy to queue for 15 minutes on the phone in the eager anticipation of speaking to a recent school-leaver trained to talk through a mind-numbing script outlining the 25 different types of mobile plans available. As telcos we grew up primarily with a "build it and they will come" kind of mindset, with all the internal disciplines that go along with it, and we made that the primary culture of our entire business. Even in those parts of the business where it had no business being that way!
As other industries radically transform to embrace lean digital operating models, and they and their customers reap the dividends of doing so, telco has stayed resolutely stuck in its ways. We still expect customers to see things our way. To accept complex legacy mindsets and processes. To visit a retail store if they want to buy something. To call a contact centre to ask about something or fix a problem. To be happy to wait 24 hours for a new network setting to be implemented. To be tied to what is good for the status quo of the operator.
But it turns out the status quo is no-longer good for the operator, any more than it is for the 21st Century consumer. In failing to address the modern shortcomings of our historical operating model, we are missing out on the economic transformation that true digitalisation has to offer. And this is a cultural issue we absolutely need to address now before it is too late.
We've established that telco networks need some of that defiantly stubborn adherence to procedures and processes that form the cultural identity of the former national monopolies and the civil servants who used to run them. But to say that everything needs to be that way, needs to stay that way, is an obtuse oversimplification. And one that is stifling telcos' abilities to move the business side of what they do into the bright lights of the 21st Century, and the All Digital way of acquiring, servicing and monetizing customers.
Modern telcos need to have a very different mindset from the incumbent operators of old. From the very top of the organisation down, we need to understand that we are dealing with 2 differing and diverging cultures within 1 business:

The first is network-centric, and needs to be careful, methodical and risk averse.

The other is customer-centric, and needs to be agile, flexible and disruptive.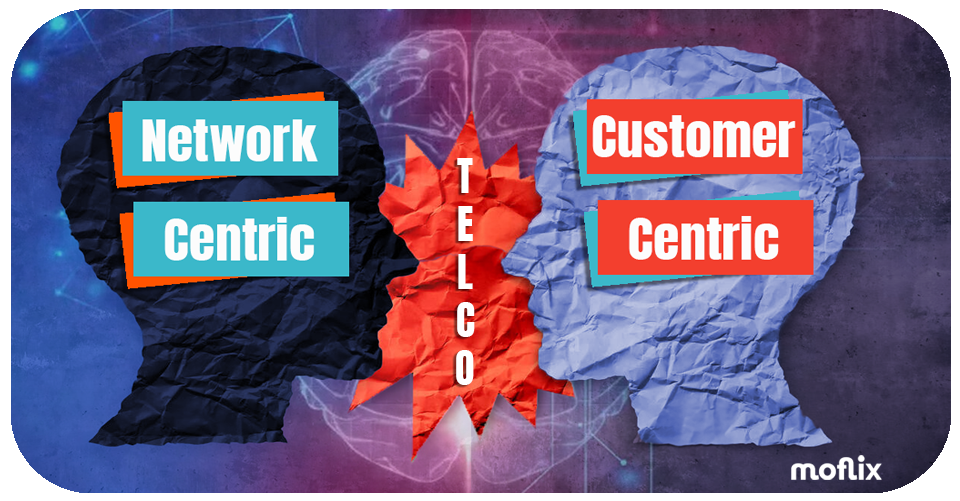 This is why we see a lot of talk from strategy consultants about delayering vertically integrated telcos, and the separation of Network Co from Service Co. If we don't accept their recommendations or aren't willing to go all the way towards recognising the cultural disparity in our organisations by splitting these 2 worlds apart completely, then we must become more comfortable accepting and living with the split brain of the 21st Century telco.
The customer-centric part of the organisation still has a long way to go to truly unshackle itself from its network-centric origins. The culture we build in our customer operations has to be much more aligned with the "The Startup Way" described in the seminal book published in 2017 by Eric Ries (if you haven't read it, I strongly recommend you do), in which customer-centricity, agility and iterative DevOps thinking are baked into every aspect of the way we do business, including finance & funding approval, product management & development, and customer engagement & lifetime value.
In some parts of the telco industry, however, the pendulum is starting to swing the other way completely. We see a lot of talk in the industry at the moment of telcos needing to change their entire culture to become Techcos. But it is too simplistic to say that telcos need to change their entire culture. Just the parts of it where doing so makes sense. In the rush to become a Techco, it would be foolish to throw the baby out with the bathwater and destroy any sense we have of being a telco. That would be a pyrrhic victory, which would only serve to weaken rather than reinvent our industry.
If we can come to terms with this split brain scenario instead, and leverage the best parts of being both a network-centric telco and a customer-centric Techco, then we can unlock a whole different kind of opportunity altogether. With a solid network operation and a lean digital customer operating model we can take advantage of our trusted Telco heritage and our modern Tech credentials to embrace the world of TelcoTech: a modern connectivity-centric platform based on the familiar fintech model. TelcoTech allows us to respond to customer need at an increasingly granular level and develop beyond our digitally enabled connectivity offerings into a super app of capabilities that builds around the needs of each individual consumer and their communities, families and social networks. And it paves the way towards a role for telcos in the world of Web3 and self-sovereign decentralised identity, which puts us at the heart of the customer's digital life in the way that being a bit pipe on its own never could.
As with any culture war, you might not like the other side, or identify with them very much. But each has valuable things to offer if you are willing to look at the world through the lens of other side. If telcos are going to win in digital, and fight off the threats posed by a whole range of external forces, we are going to have to win together. Both sides of the split brain. We are going to have to win as both a Telco and a Techco. We are going to have to win as TelcoTech.
But that's going to require you as a telco executive to wake up and make some bold decisions. It is no longer enough for members of the C-suite just to steer the ship for a couple of years until they get offered their next group role. Your DNA needs to change. And change urgently, to enable the cultural changes that your business so desperately needs. If you're not that person, then maybe TelcoTech isn't for you and that's fine.

But then get out of the way so the next generation of disrupters - the kind we're seeing emerging in Vodafone and BT – can tackle that problem with the urgency it deserves.


This is Part 5 of a 10 part series on digital disruption in the telecommuncation industry. We will update the links as the new content is published.
I. Telco Distruption Introduction: "Disrupt or Die. The Digital Clock is Ticking"
II. Disruption of Markets: "Are You Sitting Comfortably? Then It's Time to Get Disrupted!"
III. Disruption of Customer Engagement & Experience: "Dear Telcos...Fast, Cheap, & Easy is a Good Thing"
IV. Disruption of Operating Models: Smooth Operator: Embrace Minimum Waste and Maximum Joy!
V. Disruption of Culture: Culture Wars - The Split Brain of the 21st Century Telco
VI. Disruption of Success Metrics
VII. Disruption of Working Practices
VIII. Disruption of Solution Architectures
IX. Disruption of Technology Assumptions
X. Disruption of Procurement Approach