Moflix Group Appoints Robin Major as Chief Revenue Officer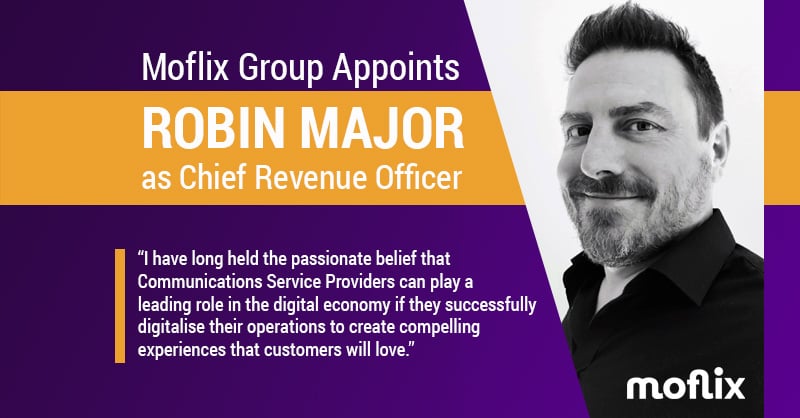 Moflix Group, a pioneer in cloud-based digital solutions for the telecommunications industry, has appointed Robin Major to the role of Chief Revenue Officer (CRO). Major will lead the strategic and operational management of Moflix's global sales and marketing organization, reporting to CEO Ryan Gold. The announcement follows the company's recent launch of Norway's first fully digital app-based mobile subscription service for Nicemobil, the digital brand of Ice Communication Norge, the country's fastest growing mobile operator.

Robin brings over two decades of experience of growing innovative digitally disruptive solutions companies into recognized international players, and has established a strong track record in driving board-level change in the telecommunications industry towards a digital-first omnichannel operating model.

Major says, "I have long held the passionate belief that Communications Service Providers can play a leading role in the digital economy if they successfully digitalise their operations to create compelling experiences that customers will love. Doing this properly involves reimagining every aspect of the business through the lens of what 21st Century customers now expect from their service providers, and building a modern lean operating model focused on delivering those customer outcomes.
Now, with the launches of Swype and NiceMobil, Moflix Group is demonstrating a repeatable, scalable `Telco-in-an-App´ approach, which leverages public cloud assets and offers a predictable agile deployment timetable to enable the widespread adoption of a digital-first operating model across the industry."
"I'm excited to be working with a team that fully understands the opportunities service providers have in this space and has built a world-class platform to help them execute on their vision. We're looking forward to helping our next wave of customers
be digital in less than 100 days."
Moflix CEO, Ryan Gold, says, "We are thrilled to welcome Robin to the Moflix Executive Leadership Team to drive our ambitious vision. We are seeing increased business momentum and demand for our digital enablement platform and now is the right time to bring in a disruptive, trusted industry leader to help us capitalise on this exciting shift in the market.

At Moflix, we help operators be digital quickly and affordably without the need for a lengthy and costly transformation project. Robin has a truly global perspective and his customer-centric approach and significant digital, SaaS, and cloud experience is a powerful asset to Moflix and our customers."


About Moflix Group
Moflix is the brainchild of an international group of telco veterans who wanted to create game-changing digital solutions designed to fix the most critical challenges that telecom operators face and transform how they do business for digital success today and in the future.
Moflix provides a fully digital solution for the automation and simplification of customer journeys and business processes while providing a positive mobile-first user experience. The Moflix platform is a ready-made solution that can be implemented and integrated into existing architectures in record time. It is fully automated, easy to use and adapt, and scales to meet the needs of any business working in highly regulated environments.

www.moflixgroup.com

Media Contacts:
Steven Stewart