When the telecommunications industry has been the key driver of enabling disruptive innovation, it is embarrassing how far behind we are in getting the Customer Experience (CX) and Customer Engagement right. And how much we still get unforgivably wrong.

When one in three adults consider a single bad customer experience enough to want to switch providers, there is high pressure to get things right from the beginning of the customer journey.

CSPs proudly proclaim that "The Future is Digital!" while building excitement for 5G, Web3.0, the cloud, and IoT, but in general, we aren't walking that talk. Our industry's "vision" for digital seems to be: use the same outdated processes, technology, and "one-size fits all" customer journey and shoehorn them into a new digital channel. Why?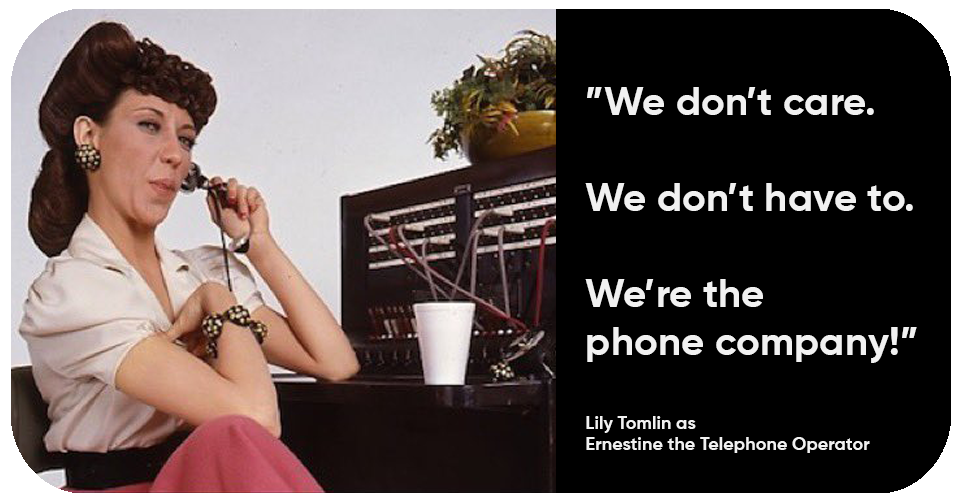 Any attempts to reinvent the telco business model based on this shortsighted ambition will surely fail – and the emerging reality of struggling digital transformation attempts in our industry is strong evidence of this. If we continue to see things through the lens of our legacy thinking and don't truly understand the power of great digital experiences, we have little chance of playing a meaningful role in the digital economy. The clock is running down on telco's opportunity to make a digital impact, and the time to act is now.

CREATING A TRULY CUSTOMER-CENTRIC CX
From the first moment of discovery to the initial onboarding and starting to use the service, we must ensure that every stage of the customer journey is positive. Providing that type of frictionless solution that works effortlessly and intuitively can be broken down to:

Can the customer easily find and get what they are looking for in a timely manner?


Can they do it all themselves quickly without needing to visit a physical location or call a contact centre?


If they do need help, can they solve the majority of issues themselves through the digital channel?

Carrie Fisher once said, "Instant gratification still takes too long." We must accept that today's consumers will no longer tolerate inefficiency as they did in past. They won't accept needing to be physically present at a shop to do business or to wait in endless contact centre queues to be served. Even older generations now expect digital services to be intuitive, always on and accessible from anywhere.

Three key factors are critical to delivering on the digital CX promise:

1. AUTOMATE
Automation streamlines the purchase cycle for customers, easing buying decisions and payments to accelerate turnaround. From order to delivery, the entire process of purchasing a new connection can be automated, assuring customers of a fast, easy, and paperless journey. Key customer information, documents, biometric ID, and more are captured during the onboarding which is verified in real-time using in a secure manner directly from an app.
2. EMPOWER
If there is a process that cannot be automated, then empower the customers to help themselves.

3. DESIGN
Your solution must be so well-designed that everything just works smoothly and intuitively: modern form, effortless flow, and the ability to exceed expectations.

D-I-S-R-U-P-T-I-O-N Does Not Spell Doom
Improving customer experience is a critical factor in building and maintaining a competitive advantage. For those willing to learn and act, there are unique opportunities for impactful growth and improvement.

According to Forrester's CX Index, the Telecom industry has the third-highest potential to increase revenue by improving customer experience (with only the Auto industry and upscale Hotels having a greater opportunity).

The Harvard Business Review reports that customers with the most satisfying experiences spend an average of 140% more than those whose experiences fell short.

Let's look at digital CX best practices from other industries, suggestions of where to start improving, and strategic ways to secure first-mover advantages or how to win back users with compelling customer engagement.


Don't Reinvent the Wheel. Steal with Pride!
Ironically, the life-changing disruptive digital transformations from sectors outside of telecommunications more often than not are using the infrastructure that OUR industry provides. How do we get back to leading? By following their examples and improving on them.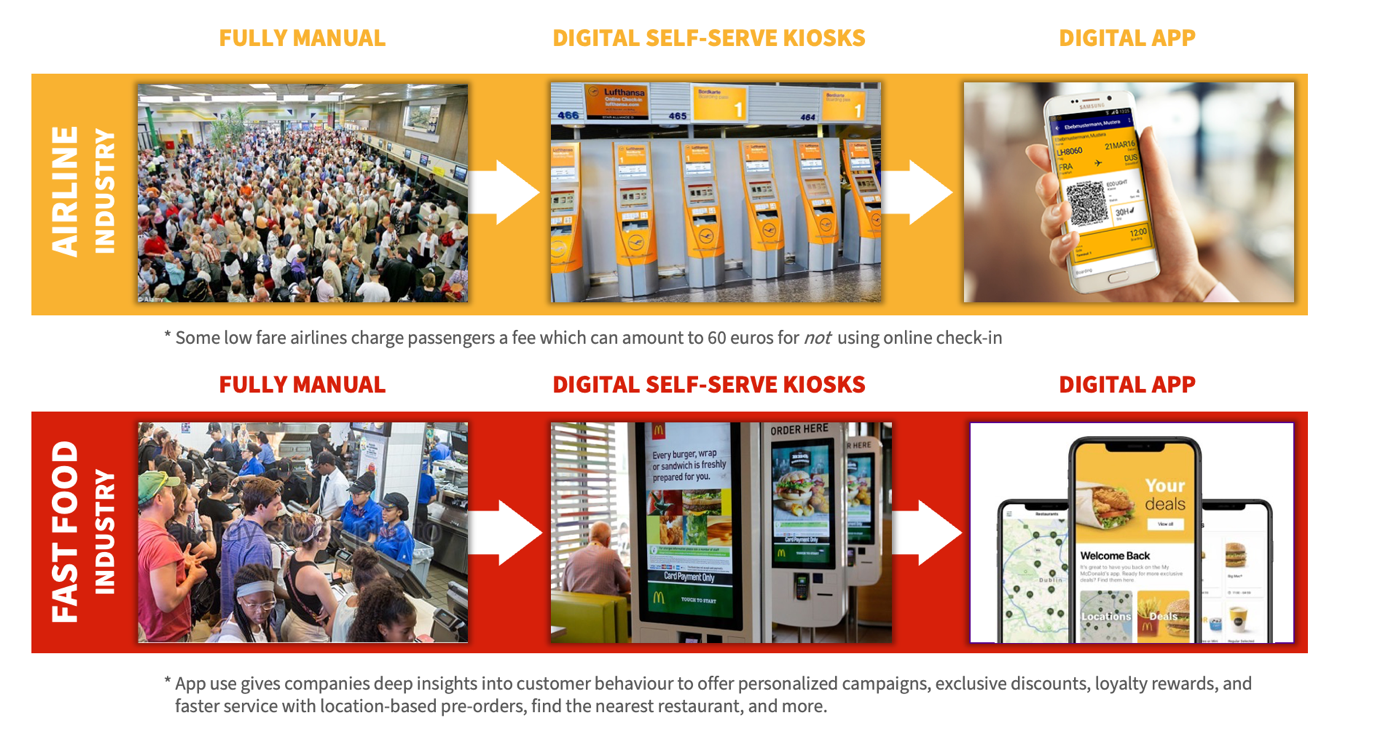 Travel
The Travel industry has made great leaps forward in how to improve poor legacy customer experience with new digital customer journeys. If you look at the airline industry they have moved away from forced human interaction to an almost fully digital experience. It wasn't too many years ago when you needed to order a physical ticket from an agency before flying. Remember those nightmare check-in queues?

Customers eagerly welcomed the shift to self-care when they realized how streamlined and transparent a historically painful process could be. The addition of an easy-to-use mobile app further consolidated the experience to be able to manage nearly every aspect of the journey from buying to flying.

Fast Food
The Fast-Food industry has figured it out as well. They are now using in-store kiosks and mobile apps. The app has the additional advantage of providing deep insights into customer behaviour to offer personalized campaigns, exclusive discounts, order customization, loyalty rewards, and faster service with location-based pre-orders. Utilizing unique mobile features also helps customers to find the nearest restaurant with directions to lead them directly there and to pre-pay for easy grab and run pick-up or getting home delivery from a 3rd party service.

Who would have thought that burger chains would have understood the importance of in-pocket engagement better than the telcos who put the devices in those pockets?

All-In with All Digital
When looking at how best practices from other sectors can be used for Telco customers, the Operators who are successfully disrupting their markets with a reimagined All Digital telco experience share 10 common characteristics:
 Every aspect of the customer lifecycle is managed in the app 


 Digital onboarding and service activation in the app 


 Identity validation and KYC carried out in the app 



Subscription and Account Management in the app, with user control of all key actions 





User support via the app with chat as the primary interface
 Simple subscription pricing models based on a simplified product catalogue with no hidden costs 



Support for modern payment methods (e.g. credit cards, Apple Pay, Google Pay, and local digital payment providers) 





Very little to zero dependencies on legacy retail stores or contact centres 
 No prepaid vouchers. No postpaid bills. No revenue risk. No surprises. 



Always-on 24/7 organic engagement and monetization opportunities through the app
The All Digital Telco model requires a fundamentally different kind of engagement with customers, in which all aspects of the customer interaction model and customer journeys are carefully optimized for customer needs. This move towards a customer-centric

operating model is something we'll be discussing in the next section of this blog series, and it drives a number of fundamental changes you will need to make to meet the digital expectations of your audience:



The All Digital Telco is Always On




The App is the storefront of the All Digital Telco and the customer

experience has to be provided 24x7x365. There are no store closing times, no break for contact centre shifts, or service outages due to system

maintenance. 




The All Digital Telco is Always Engaged




Traditional customer engagement models in our industry revolve around infrequent and stressful customer interactions, such as requiring a visit to a retail store to renew a contract, calling support to complain about a service, or logging on to a website to pay a bill. The entire engagement infrastructure of telecommunications operators is built around encouraging a revenue-generating conversation at key moments when customers are LEAST likely to be receptive.



With the All Digital approach you are able to leverage the fact that your customers use your services and interact with their mobile devices over 100 times per day. Each of these moments is an opportunity to learn more about your customer and decide whether to delight them with a new idea immediately or add to a personal profile which may drive a future monetization opportunity. You don't get this level of engagement in a contact centre or even on a website!


The All Digital Telco Has Nowhere to Hide


You build trust and loyalty when the customer has a transparent and precise experience. The bills must be correct, all services must be provisioned and available for

use immediately, all customers must have the flexibility and control to change and personalize

their experience instantly with no "massaging" of information by humans, or manual intervention from the operator.
Meeting each of these 3 key expectations simultaneously at scale isn't easy. But doing so unlocks significant improvements to your Customer Experience and Engagement which will pay enormous dividends for years to come. So where do you start?

Use the Powerful & Unique Digital Capabilities of an App
Interactive and intuitive mobile apps can deliver the most meaningful opportunities for our industry. Plus, technology advancements in automated solutions enable CX to become faster, easier, and more rewarding.
Sadly, for the telco industry, the bar for improvement isn't that high. Telco customers have low expectations, and in most cases, their provider still falls short: Just 14% of network service provider customers were delighted with their last interaction.

The onboarding process is the start of your customers' personal engagement with your brand. It needs to be fast, simple, and easy to understand and to utilize the power that smart digital experiences provide - without making your user rage quit in frustration.

It's critical to understand where drop outs happen, why they happen, and how to improve the customer experience to avoid losing your customers before they are able to complete their purchase.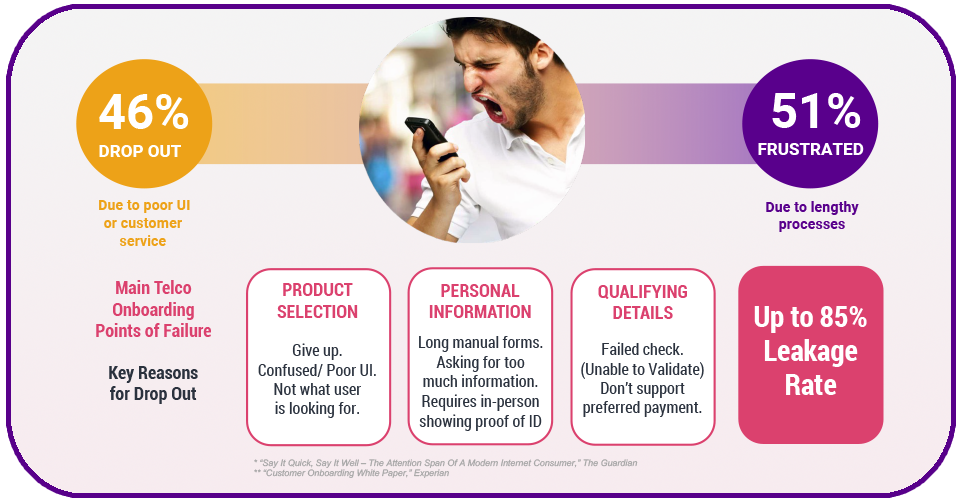 Detecting Friction / Drop Out Reasons in Telco Onboarding

Here are just a few suggestions of where to focus:

First Impressions Count


Creating a clean splash screen with a clear call to action declutters the UX and sets positive expectations. Clearly communicating what your customer is buying (including transparent pricing) and how the sign-up process goes will give customers the peace of mind to continue onboarding without feeling at risk.


Keep It Simple Stupid




Customer journeys must be optimized to minimize the possible steps required to achieve the desired result. The journey must be so intuitive that there is no way to misinterpret the information required or the outcome of each step. If your customers are having to resort to contacting support to get through your onboarding process then something has gone badly wrong.




Leverage the Instant Delight of eSIM


Why make customers wait for delivery of an environmentally unsustainable plastic SIM, when you can offer them a seamless experience that allows them to onboard anywhere in the world! Customers may not be aware of the instant gratification eSIM can offer, so automatically informing them their device supports eSIM upfront offers an opportunity to surprise and delight (But don't forget to offer a physical SIM if their device is not compatible).


Location! Location! Location!




Using location services can automate the checking of service availability and quality (especially for 5G upsells or fixed-line orders). It can also assist with auto-fill of addresses during sign-up, and personalization of service status information.




Knowing Me, Knowing YOU




Traditionally in many markets, telco customers would need to prove their identity by appearing in person at a physical shop to show their ID or documentation. eKYC lets users handle the full verification process easily through the app using facial recognition and AI-based document validation, creating a platform for trusted commercial relationships with customers that may extend beyond basic connectivity.



You Can't Build a New Business with Old Tools
So, how do you start to implement? In McKinsey & Company's "A Battle Plan for Telcos' Digital Attacker Brands" they state that operators must transform to cope with new market conditions but are facing difficulty making an organization-wide overhaul.

Their suggested greenfield approach of creating a new offer may require a new mindset on the part of the leadership, which may be more accustomed to resetting the business "Today Forward" rather than fully reimagining it "Future Back."

But this also opens up a new world of possibilities unencumbered by legacy restrictions and new ways of measuring success in NPS, Customer Advocacy, App Store Ratings, Brand Equity, and Customer Lifetime Value – not churn percentage.
This is the beginning of the journey for a traditional telco to transform into a true All Digital service provider, and to be able to provide customers with the experiences and services they have learned to expect from other industries. And it can be implemented quickly for near-immediate results.

As we said in our introduction to this Disruption series - Disrupt or Die: The Digital Clock is Ticking - it's time to stop thinking like a legacy telco and start living in the All Digital world.


---
This is Part 3 of a 10 part series on digital disruption in the telecommuncation industry. We will update the links as the new content is published.
I. Telco Distruption Introduction: "Disrupt or Die. The Digital Clock is Ticking"
II. Disruption of Markets: "Are You Sitting Comfortably? Then It's Time to Get Disrupted!"
III. Disruption of Customer Engagement & Experience: "Dear Telcos...Fast, Cheap, & Easy is a Good Thing"
IV. Disruption of Operating Models
V. Disruption of Culture
VI. Disruption of Success Metrics
VII. Disruption of Working Practices
VIII. Disruption of Solution Architectures
IX. Disruption of Technology Assumptions
X. Disruption of Procurement Approach