Be Digital in 100 Days
The award-winning Moflix TelcoTech Platform combines a modern all-digital Telco experience with a flexible webscale Tech platform to offer the Telecom industry the same disruptive opportunities that FinTech brings to financial services.
We provide a full end-to-end digital solution to drive rapid growth in a lean operating model so you can launch a Greenfield All Digital Proposition in under 100 days, and iterate into a trusted Super App environment for both Web2 and Web3 experiences.
And with no disruption to existing IT roadmaps - so you can see the impact on your KPIs by the next quarter.
A Complete, Fully Digital Telco Solution
The Moflix TelcoTech Platform delivers on the promise for Telco Operators to "Be Digital in 100 Days" with a modern greenfield cloud-native Telco in an App.

As a cloud-based proposition with fast and easy eSIM onboarding, we provide a truly paperless, streamlined solution that can reduce IT and operational costs without the need for a massive transformation project.

Built on Amazon Web Services (AWS), Moflix enables the orchestration of services such as:
Customer Onboarding and Self-Service
Strong Customer Identification
Customer Support
Subscription Billing


100% Digital
Processes are fully automated and 100% digital. Cumbersome manual workflows have been removed unless they can be done by the customer using self-service.
Cost Savings & Automation
With the automation of manual processes such as billing and customer support, operators can reduce IT and operational costs.
Future-Ready: Path to Web3 Opportunities
Disrupt your markets by leveraging your position as a trusted connectivity provider to take advantage of broader TelcoTech opportunities with Web3 initiatives.
Existing Process Utilization & Fast Deployment
The Moflix TelcoTech Platform is a ready-made solution that can be implemented and integrated into existing architectures in record time.
Simplicity and Customer Satisfaction
Better serve your customers and exceed their expectations for digital services, with everything at their fingertips through the app.
Our Customers
See how our customers are disrupting the market with innovative digital solutions.
"It is great to have a business partner that really understands our needs for digital services. Thanks to Moflix, we have been able to launch a next generation mobile product on the Swiss market with the true focus on digitalization. Moreover, the close collaboration and continuous support help us to grow the business together."
Mark Klünnen
Director Strategy & Proposition at Sunrise Communications
"We needed a secure digital on-boarding solution for our token-holders so that they could swap their MOD tokens for either cash or participation certificates. Moflix provided us with a flawless digital onboarding solution that makes it very easy for the token-holders to complete the self-onboarding in under three minutes."
Sacha Uhlmann
Chief Product Officer at Modum
""We were looking for a partner who shares our core values to power our all-digital brand. In Moflix we found exactly what we were looking for, that's why we trusted them with the development of the NiceMobil app""
Shiraz Abid
Chief Commercial Officer at ICE Group ASA
Read Our Latest Blog Posts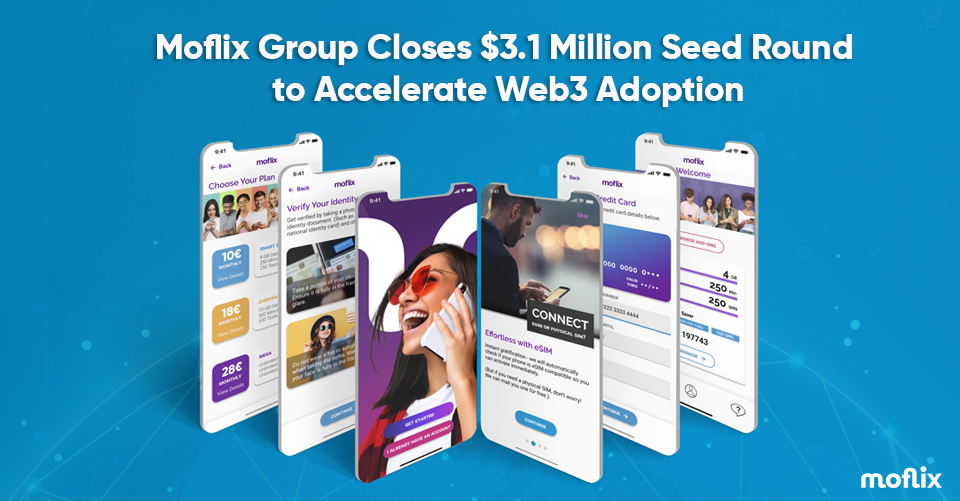 | November 9, 2023
The strategic investment enables Moflix to refine its Web3 offering to telcos, including trusted digital identity credentials and digital wallet..
Let's Talk!
At Moflix we understand the urgency to launch fully digital services, as well as the implications and risks of a digital transformation. We help operators to transform their operations without the need for a massive transformation project.

Get in touch today and discover all the benefits of a future-proof business with Moflix.